JP Morgan profits fall 7.3% after Madoff case dents earnings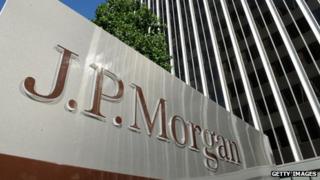 US bank JPMorgan Chase has reported a drop in profit for the last three months of 2013 after legal costs relating to the fraudster Bernie Madoff dented earnings.
Net income fell 7.3% for the fourth quarter to $5.3bn (£3.22bn), from $5.7bn in the final quarter of 2012.
The bank said one-off items had damaged income after tax by $1.1bn.
Separately, Wells Fargo, the US's biggest mortgage lender, said fourth quarter profits rose 11% to $5.4bn.
Wells Fargo cut thousands of jobs in the second half of the year in order to boost earnings.
'Accept responsibility'
Last week, JP Morgan agreed to pay $2.6bn to settle government and private claims resulting from its handling of Madoff accounts. The bank was accused of not reporting its concerns about Madoff's investment scheme.
It said then that that would take an extra $850m from fourth-quarter earnings to cover expenses.
The bank's chairman and chief executive, Jamie Dimon, said the move was "in the best interests of our company and shareholders for us to accept responsibility, resolve these issues and move forward".
JP Morgan was Madoff's principal bank and their business relationship dated back to the 1980s.
The 75-year-old Madoff is currently serving a 150-year prison sentence in the US after being found guilty of defrauding investors.
Scandals
Over the past year, JP Morgan has paid some $20bn to regulators for various violations relating to the US financial crisis, including the so-called "London whale" trading loss, in which a single trader wracked up losses of $6bn.
It has also been caught up in another high-profile banking scandal - the manipulation of a key interest rate, the London inter-bank offered rate, or Libor.
The bank also made some one-off gains as well as the one-off losses resulting from the legal side.
These included income from the sale of Visa shares, as well as from the sale of its prime property known as One Chase Manhattan Plaza in New York.
Revenue for the fourth quarter was $24.1bn, 1% lower than in 2012.
JPMorgan's investment banking business saw a 57% drop in earnings, largely due to a £1.5bn loss as the bank readjusted the value of some investments.
'Optimism'
Filippo Alloatti, senior analyst at Hermes Credit, said he expected JP Morgan's legal costs to be significantly lower going forward.
"JPMorgan remains a formidable franchise, even as litigation settlements dampen down near-term profitability," he added.
Wells Fargo's profit rise was better than analysts had predicted, due mainly to a sharp fall in provisions for bad loans.
The fall helped to offset a 49% drop in its mortgage lending activity.
"Strong earnings power and capital levels, and an improving economic outlook are major reasons why we look ahead to 2014 with optimism," said chief executive John Stumpf.