Cement firms to face more competition after inquiry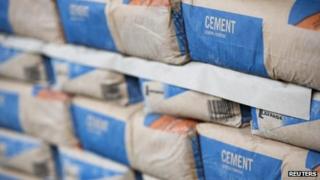 The UK's cement market is set to see greater competition following changes ordered by the Competition Commission.
The Commission spent two years studying the market amid fears existing firms were concentrating on preserving their market share and failing to compete.
It said the lack of competition was costing cement users £30m a year.
The Commission has told one of the existing firms, Lafarge Tarmac, to sell one of its cement plants to enable a new firm to compete in the industry.
The dominant cement firms are Lafarge Tarmac, Cemex, and Hanson. These three were joined a year ago by new entrant, HCM. These, and another company, Aggregate Industries, which does not produce cement, make up the five main suppliers of heavy building materials in the UK, which include aggregates, cement and ready-mix concrete.
Lafarge Tarmac will be required to choose between selling either its Cauldon, Staffordshire or its Tunstead, Derbyshire cement plants.
Lafarge's chief executive, Cyrille Ragoucy, said he was "disappointed" by the decision, adding it was "not reasonable or proportionate".
"The Commission has based its remedies on a partial and historic picture of the market. Its analysis of industry profitability... is flawed, grossly overestimating the returns made," he said.
"It has also failed to take into account the new business environment that has been established by our divestments - only 12 months ago - to create a new competitor, and the entry of new importers into the market."
'Essential product'
The Commission also ordered changes in the supply of another heavy building material, ground granulated blast furnace slag (GGBS), which is a partial substitute for and input into cement.
It has ordered Hanson to sell one of its GGBS production facilities.
It says the inefficient market for this material has led to losses for buyers of a further £15m-£20m a year.
Professor Martin Cave, the chairman of the inquiry, said: "Cement is an essential product for the construction and building sectors and the amount of such work that is funded by the public purse only underlines the importance of ensuring that customers get better value for money."