Barratt sales lifted by Help to Buy scheme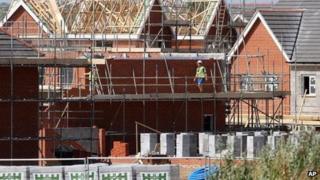 House builder Barratt Developments says the government's Help to Buy scheme has driven up demand over the past six months.
The group completed 6,195 new homes in the six months to the end of last year, up 19% on a year earlier.
It said 29% of the houses were bought using the government's Help to Buy scheme.
Its average selling price for the period rose to £211,000, up 13.7% from the previous year's figure of £185,500.
Barratt said the price rise was helped by a shift to build more lucrative family homes rather than high density city-centre apartments.
A spokesman for the firm said flats now accounted for 20% of its homes, compared to 55% in 2007.
Barratt said it was "well placed" for the year ahead.
"We have been able to increase materially the number of new homes being built and our profitability," said chief executive Mark Clare.
Forward sales for the firm are up 70.6% on the same period a year earlier to £1,265.8m.
Help to Buy boom
Both Barratt and its rival housebuilders have benefited from the government's move last year to help struggling house buyers by providing loans and guaranteeing mortgages with its Help to Buy scheme.
The first phase of the scheme was launched last April, but only provided help to those buying new-build homes.
The extended scheme, launched last November, applies to all buyers and all types of homes, up to a value of £600,000.
Richard Hunter, head of equities at Hargreaves Lansdown Stockbrokers, said Barratt had successfully capitalised on the UK property market's recovery:
"There are notable improvements to sales rates, forward sales, reservations and completions, whilst the continuation of the government's schemes, aimed at boosting buying interest, is also playing into Barratt's hands.