Toyota FT-1 concept sports car unveiled in Detroit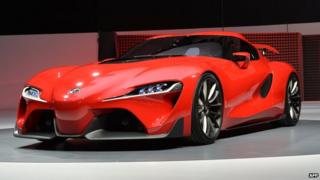 Japanese carmaker Toyota has unveiled a new concept sports car, Future Toyota-1 (FT-1), at the Detroit motor show.
Toyota said the concept car was a symbol of its future product designs.
The firm said it was aiming to move away from making "less risky" cars towards making vehicles that "connect more deeply" with consumers.
The Japanese manufacturer is one of the many global carmakers that have unveiled new vehicles at the ongoing auto show in Detroit.
German carmaker Mercedes showcased the latest version of its C-class sedan at the event.
Meanwhile, Ford unveiled a new lightweight version of the F-150 pick-up truck. Its body is 95% made of high-strength aluminium and weighs up to 700 pounds (300 kg) less than the current model.
'Provocative concept'
Toyota is the world's biggest carmaker but it has been facing growing competition from Germany's Volkswagen as well as rejuvenated US car firms General Motors and Ford.
Volkswagen has in fact set its sights on becoming the world's biggest car manufacturer by 2018.
As firm jostle for a bigger share of the global car market, they have been launching new models in an attempt to attract new customers.
Toyota said its concept car indicated a new approach towards producing cars "that connect more deeply with customers, generating a more satisfying ownership experience".
Kevin Hunter, president of Calty Design Research which developed the concept, said that Toyota had previously designed its vehicles so they would be "liked by everyone and as a result we took less risks and tried not to stray too far".
"This provocative concept truly captures the passion, excitement, and energy of the Toyota we are evolving into and embodies elements of the emotion and performance that Toyota will imprint upon future production designs," he added.
Lighter vehicles?
Ford indicated that it could start using aluminium in the manufacture of sport utility vehicles (SUVs) and other vehicles in the future.
The US carmaker said this as it showcased the latest version of its pick-up truck F-150, which has a 95% aluminium body.
"Obviously this is our first shot [at using aluminium in] a big-volume vehicle and there's absolutely no reason why we couldn't think about taking it elsewhere," said Bill Ford, executive chairman of the firm.
"It is a lightweight, high-strength material and 700 pounds out of a vehicle like this - that's a big deal," he added.
The company said that reducing the weight of the F-150 truck would also help it meet more stringent US fuel economy regulations in the future - known as corporate average fuel economy (Cafe) standards.
"You have to look at where you get the most attribute benefits for that weight and where do customers pay for that technology," said Joe Hinrichs, Ford's head of North and South American operations.
"And where fuel economy can make a big difference in the market place."