Libor: Three former Rabobank traders charged in the US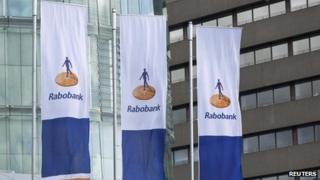 A Briton is among three former Rabobank traders charged in the US for allegedly conspiring to manipulate the Yen Libor benchmark interest rate since 2006.
Prosecutors say Paul Robson, along with Paul Thompson and Tetsuya Motomura, gave false estimates of key rates to benefit their own trading positions.
Criminal charges of wire fraud and conspiracy to commit bank fraud were filed in a Manhattan court on Monday.
If convicted, the former traders face up to 30 years in prison.
However, none of the men is currently in US custody and it is unclear if they will be extradited to face trial.
Acting Assistant US Attorney General Mythili Raman said they intended to continue rooting out "misconduct" in the financial industry.
"These three traders - working from Japan, Singapore and the UK - deliberately submitted what they called 'obscenely high' or 'silly low' LIBOR rates in order to benefit their own trading positions, he said in a statement.
"The illegal manipulation of this cornerstone benchmark rate undermines the integrity of the markets."
'Bigger crooks'
The new charges come less than three months after Rabobank struck a deal with global authorities over the Libor rate-rigging scandal, the fifth financial firm to do so.
The Dutch lender paid out more than $1bn (£610m) to settle claims its employees manipulated several key interest rates.
Its chief executive Piet Moerland also stepped down following the scandal, calling it "a matter of principle."
According to court filings, the three former traders worked with each other to manipulate the Yen Libor rate between 2006 and 2011.
Mr Robson was a senior trader in London, Mr Thompson is an Australian who worked in Singapore, while Mr Motomura was a senior trader at Rabobank's Tokyo desk.
In a 2007 email exchange, Mr Robson allegedly told one trader who requested a higher Yen rate:
"Sure no prob... I'll probably get a few phone calls but no worries mate... there's bigger crooks in the market than us guys!"
He also allegedly described the skewed submission as "embarrassing," "ridiculously high" and "obscenely high".
Libor scandal
Libor rates are used to set trillions of dollars of financial contracts, including many car loans and mortgages, as well as complex financial transactions around the world.
It is the average rate at which banks lend money to one another and is decided on a daily basis.
Most of the world's biggest banks contribute estimates to form the Libor, but some have looked to profit from it by either understating or overstating their submissions.
Regulators have been investigating manipulation of Libor inter-bank lending rates since 2012 and there have been $3.7bn (£2.26bn) in fines to date.
A string of international banks and brokers, including Barclays and the Royal Bank of Scotland, have faced both criminal and civil penalties for their involvement in the scandal.