Will Americans ever buy Chinese cars?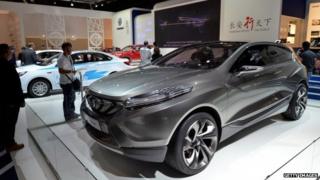 Although the focus at the Detroit motor show this year has been on the "big three" US carmakers, foreign manufacturers are also making a splash.
But the country with the most vehicle consumers of all - China - is noticeably absent on the floor here.
For the first time since 2006, no Chinese car manufacturer has an exhibition booth at the Cobo Center in downtown Detroit.
That absence is all the more striking because the Chinese car market continues to expand rapidly. Last year, Chinese consumers bought a record 17.9 million vehicles in 2013, a 15.7% increase from the year before.
But booming Chinese car consumption has not helped Chinese carmakers.
Their total market share in China slipped by 1.6 percentage points to 40.3% in 2013 and exports declined, according to the Chinese Association of Automobile Manufacturers.
But don't count the Chinese out just yet.
"There is a great deal of interest in major Chinese automakers in setting up shop here in Michigan," says Nigel Francis, Michigan's newly appointed "car tsar".
And analysts say it's not just idle curiosity.
"I would say probably within five years or so, it's not out of the question that a Chinese automaker would make a run at the US market," says Greg Anderson, a China consultant and author of Designated Drivers: How China Plans to Dominate Auto Industry.
Lots of opportunities
In preparation, two of the so-called "big four" Chinese carmakers - SAIC and Changan - have quietly been expanding their facilities here in Detroit.
"China needs expertise - you need expertise to design, engineer and manufacture the complex product which we see as today's automobile and Michigan is the home of the expertise," says Mr Francis.
Changan recently opened a research and development facility about 30 minutes from downtown Detroit, to help the firm improve its capability to design appealing vehicles.
The outpost - one of the firm's four overseas facilities - focuses on chassis design, particularly for middle to high-end passenger cars and sport utility vehicles (SUVs).
Already, some of Changan's Chinese models - the Eado car and the CS35 SUV - have benefitted from Detroit's expertise.
"We believe if we needed to develop a vehicle in the US, we had to be in Detroit," says Changan US board chairman Wei Li through a translator, Zhiwei (Frank) Zhong, the general manager of the facility.
"Detroit has a lot of opportunities and they have skilled people and very rich resources over here," he adds.
Although the firm says it has no plans to sell cars to US consumers in the short term, it is expanding here.
Just this year, the office has doubled in size to 30 employees, and Changan says it wants that staff to double again by 2015.
The Hyundai example
But for any Chinese carmaker looking to expand in the US, there will be quite a few challenges, such as passing US safety and regulatory standards, gaining brand recognition and setting up dealer networks in the US.
While that may seem like a long road to travel, expanding Chinese firms will at least be able to study what prior Asian entrants have done, like South Korean carmaker Hyundai, which recently celebrated 29 years in the US market.
"Hyundai came into the US in the 1980s and it was rough for them - US consumers didn't recognise the name, they couldn't even pronounce it," says Mr Anderson.
To gain entry, Hyundai was forced to heavily discount its cars.
And to convince US consumers that the cars were safe, Hyundai offered a 100,000-mile (161,000-km) warranty to placate jittery buyers.
Needless to say, the strategy worked.
Although Hyundai's US market share has slipped recently to 4.7%, newly installed North America head David Zuchowski said on Monday that the company had a goal of reaching 5%.
'We'd love for you to come'
For now, Chinese car exports continue to be concentrated in emerging markets such as Latin America and Russia.
But when they look to finally make it big in a developed market like the US, bankrupt Detroit is ready to welcome the Chinese with open arms.
Michigan is currently home to more than 100 Chinese firms, and since 2005, the area has benefitted from more than $1bn (£610m) of Chinese investment.
"Not surprisingly our message to China is: we've got the know-how, we'd love for you to come," says Mr Francis.
And that may be sooner rather than later: BYD, a Chinese car maker in which Warren Buffett has invested, recently said it had plans to bring four models to the US by the end of 2015.