Japan's Suntory buys Jim Beam drinks group in $16bn deal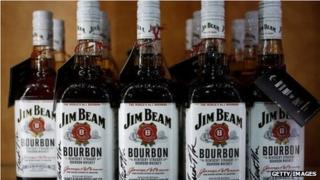 Japanese family-owned drinks firm Suntory is to buy the US beverage group Beam Inc, the company behind the Jim Bean bourbon brand.
Under the deal, worth $16bn (£9.7bn) in all, Suntory will pay $13.6bn in cash and take on Beam's debt.
It will make Suntory the world's third largest maker of distilled drinks.
The two companies have a previous partnership whereby they distribute each other's brands in different markets.
Beam's brands also include Maker's Mark bourbon, Sauza tequila, and Courvoisier cognac.
Suntory is best-known for the Japanese whisky brands Yamazaki, Hakushu, and Midori liqueur and Bowmore Scotch whisky.
Following the announcement, Beam's share price rose 24%,
Soft
Beam's chief executive Matt Shattock is to continue in his role following the deal, and the company said that it will continue to operate the US brands from the current headquarters near Chicago.
In September 2013, the UK's GlaxoSmithKline sold its Lucozade and Ribena brands to Suntory for £1.35bn.
Suntory also owns Orangina Schweppes, and floated its soft drinks and food business in July of 2013 on the Tokyo Stock Exchange.
The flotation was one of Japan's largest share offerings last year.