Airbus delivers record orders but fails to beat Boeing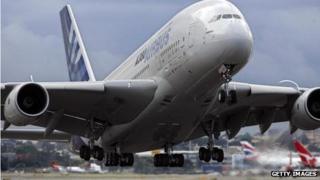 Airbus delivered a company record of 626 planes in 2013, the manufacturer announced on Monday.
A total of 93 customers received Airbus aircraft last year, including 15 who were taking delivery of an Airbus aircraft for the first time.
Despite the rise, Airbus fell short of deliveries achieved by arch rival Boeing, which said earlier this month that it delivered 648 planes in 2013.
Airbus said it now had a 51% market share in aircraft with over 100 seats.
The company's commercial director John Leahy said losing out to Boeing "doesn't matter to us at all".
"I think we're happy with what we've got. It's a duopoly, with a 50-50 split here. I don't really care if they have two more airplanes or we have two more," he added.
Overall, Airbus delivered 493 of its A320 family aircraft, 108 of its A330 planes, and 25 of its super-jumbo A380s last year.
Growing fast
The company also said it had hired 3,000 more people. "We are in a growth industry," added Mr Leahy.
Last year's total orders for 1,619 planes were more than double Airbus' expectations, but Mr Leahy warned demand was unlikely to continue at its current pace.
"The fact is, we cannot as an industry continue at this level. But what we are doing is we're continuing to increase production," he said.
Airbus chief executive Fabrice Bregier added: "If the market remains positive, if the customer needs more aircraft, I think we would be silly not to ramp up again."