McLaren: The boss who swapped Ford for supercars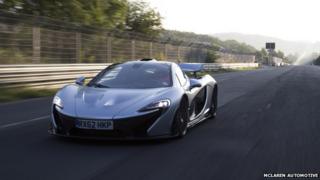 Carmaker boss Mike Flewitt is feeling pleased - his company has just sold another vehicle.
While most auto industry chief executives are unlikely to be too focused on shifting a single unit, this car is a bit out of the ordinary.
It is a McLaren P1 and costs £900,000 ($1.5m). For that you get a great deal of engineering and rather a lot of speed.
It is the flagship model of McLaren Automotive, the small British sports car manufacturer which is a sister company to the namesake Formula 1 racing team.
The firm, which Mr Flewitt has led since July, makes just one P1 per day at its futuristic headquarters in leafy Surrey, south of London. And only 375 P1s will ever be built.
In total McLaren produces seven cars per day; the others are variants of its cheaper 12C model, costing approximately £200,000 ($330,000).
Such minuscule output is in marked contrast to Mr Flewitt's previous employer - global giant Ford, where he held several senior positions.
Yet the 52-year-old describes joining McLaren as "an amazing opportunity".
Scalextric wedding
A dedicated "petrol head", he likes nothing better than racing his Lotus Elan sports car at weekends with his Swedish wife Mia, another car industry professional and motor enthusiast.
And when they married 11 years ago, one of their highlights was a room in the hotel dedicated to Scalextric models, where the newly-weds and their guests held races.
Going back to Mr Flewitt's childhood in Liverpool, he says he demonstrated a predilection for all things mechanical from an early age, fondly remembering fiddling with Meccano, playing the aforementioned Scalextric, and building his own bikes.
His first car, bought after passing his driving test at 17, was a convertible Triumph Herald, which he had saved up for.
His education, at a Catholic grammar school, was strict, yet instilled a sense of discipline and an appreciation of high standards, values exemplified by his parents.
"I look back on those days with the highest regard," he says. "Everything I've achieved I owe to my parents."
However, at one point, things seemed in danger of sliding off-track. He lasted just a year at the University of Liverpool after realising - ironically, given where he ended up - that business studies was not for him.
So, aged 21, he found himself trying various jobs, much to the consternation of his headmaster father.
"Then I got a technician apprenticeship at Ford's factory in Halewood [near Liverpool], worked on the production line, and loved it," he says.
"It made me realise that whatever you do in life it's going to be hard work, so you may as well enjoy it."
Overseas career
Mr Flewitt soon found he had a gift for making production lines more efficient, and for managing teams.
"I learned that to build a good team, you don't choose a lot of people like yourself; you choose people with a wide range of abilities who complement each other.
"It's the most valuable business lesson I've learned."
He won promotion at a young age, and his burgeoning career saw him go on to work for other carmakers, including Rolls-Royce and Bentley, before ending up back where he started.
At Ford he eventually rose to vice-president of manufacturing for Ford Europe, and corporate officer for its parent group, the Ford Motor Company.
Spells followed in Sweden - where he met his Volvo engineer wife-to-be - plus Turkey and Germany. "If you wanted to do well in motor manufacturing you had to move abroad," says Mr Flewitt.
He didn't stop learning, either, qualifying as a manufacturing and mechanical engineer in 1987, then achieving a postgraduate qualification in management and project management at the University of Salford in 1996.
It was two years ago that Mr Flewitt was headhunted by McLaren, first becoming its chief operating officer, then being promoted to chief executive a year later.
Green supercar?
Led by overseas sales, Mr Flewitt is in charge of a company which certainly doesn't have a problem shifting its cars.
Late last year, it opened four new showrooms in China, its biggest growth market, where the average age of a P1 purchaser is just 21.
The company has 1,500 employees and annual revenues of £300m ($493m), and while it doesn't release a figure, Mr Flewitt says it was profitable in 2013.
"We export about 90% of the cars we make," he says, "with the US still our biggest market by volume."
But at a time of increasing environmental concerns, are high-speed supercars an anachronism?
"Does the green movement mean giving up all the things we enjoy and stopping having fun?" asks Mr Flewitt. "No, it means doing it responsibly."
And so McLaren's P1 is actually a hybrid, as capable of gliding quietly through town solely on electric power as blasting from 0 to 62mph (100km/h) in under three seconds, and up to its theoretical top speed of 217mph (347km/h).
"An efficient power train is cleaner and greener," Mr Flewitt maintains. "We see ourselves as a technology company as much as a car manufacturer."