Shop vacancy rate improves 'significantly' in December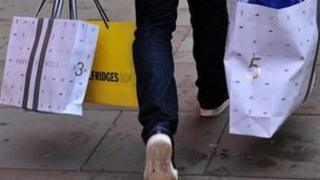 The number of empty shops on the UK high street fell to their lowest level in a three-and-a half years in December, a survey suggests.
The rate of town centre shop vacancies last month was 13.9%, according to the Local Data Company's monthly barometer.
It is the first time the rate has fallen below 14% since July 2010.
"December's drop in the shop vacancy rate is very significant," said Matthew Hopkinson, director at the Local Data Company.
Mr Hopkinson said the fall from November's 14.1% rate reflected what "one hopes is the final stages in the significant rebalancing of our town centres to meet the needs of the modern consumer".
The firm said the improvement had been helped by a 2013 fall in administrations, an increasing conversion of empty shops for leisure use and the redevelopment or demolition of sites that had been vacant for a long time.
There are now 21,975 empty shops in the top 650 town centres, the survey estimates.