Indonesia's hotly-contested mineral ban takes effect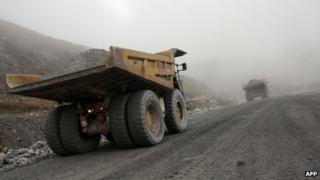 Indonesia has pushed through a hotly-contested ban on raw minerals exports after making last-minute concessions for the country's two biggest miners.
US mining giants Freeport-McMoRan and Newmont will temporarily be exempt from the ban, which took effect on Sunday.
The ban is aimed at boosting local mineral processing to keep a greater share of mining profits in Indonesia.
But critics have claimed it will lead to mass-layoffs and worsen the country's widening trade deficit.
However, Jero Wacik, Indonesia's energy and mineral resources minister, said the rules were aimed at enhancing the value of Indonesia's mining industry.
"We want to avoid mass layoffs," Mr Wacik said. "We also want to keep companies that are already or planning to process ore to continue their operations."
Mining revenues
Government ministers had met for 11th-hour meetings on Sunday, before handing the watered-down legislation - first introduced in 2009 - to Indonesia's President Susilo Bambang Yudhoyono for signing.
The decision to give concessions is aimed at easing disruptions to the country's mining industry, following strong opposition to the initial proposal.
The government hopes the ban on export of raw minerals will boost local processing and attract investment for the refining and output of higher-value metal products.
However, economists have said that the rule could have a harmful effect on the economy by wiping out billions of dollars in export revenue.
The Indonesian Chamber of Commerce and Industry has warned as many as 800,000 jobs might be at risk from the mineral ban.
Indonesia is one of the world's biggest producers of copper, nickel and aluminium.
Metal prices, nickel in particular, rose sharply on Monday on speculation the ban may cause a supply squeeze.
Shares of some Australian mining companies also rallied as investors bet that they would benefit from increased production demand following the ban.