UK industrial output and construction data miss forecasts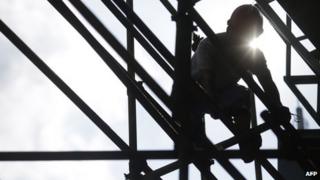 New economic data has cast doubt over the strength of the UK's economic recovery, prompting warnings against an early rise in interest rates.
The Office for National Statistics (ONS) said that manufacturing activity and broader industrial output were both flat in November, from October.
Separate figures showed construction activity fell 4%, the sharpest monthly decline since June 2012.
BNP Paribas economist David Tinsley called the data "unambiguously poor".
The ONS also revised down the growth figures for manufacturing and wider production for October.
On an annual basis, all three sectors showed growth, with manufacturing up 2.8% in November from a year earlier, the strongest performance since May 2011. Construction output, a stronger performer for much of 2013, was up 2.2% on the year.
Mr Tinsley said that despite the data, the UK's economic fundamentals were "broadly encouraging" and the new figures should keep "the lid on over-exuberant (interest) rate hike expectations".
'Timely reminder'
Recent industry and consumer surveys have pointed to growing confidence about economic prospects, prompting debate about when, not if, the Bank of England will raise rates.
But David Kern, chief economist at the British Chambers of Commerce, warned against a rise any time soon. "Although longer-term comparisons show solid annual growth, these monthly figures are disappointing," he said.
"It is a timely reminder that the recovery is not yet secure, and should also dampen the clamour for an early rise in interest rates. The government must continue to implement measures to boost growth, to ensure that the UK economy is on firmer ground before any such step is introduced."
Samuel Tombs, UK economist at Capital Economics, added: "November's weak industrial production figures signal that GDP growth in the fourth quarter is unlikely to be quite as strong as the business surveys have indicated."
Also on Friday, the National Institute of Economic and Social Research (NIESR) released estimates suggesting that GDP grew by 0.7% in the final three months of 2013.
The economic research group said that this suggested the economy had expanded by 1.9% last year, up from growth of just 0.3% in 2012.
This would put the level of GDP at just 1.2% below its pre-recession peak in January 2008, NIESR said.
The group added that: "The economy is expected to expand at a reasonable pace in 2014."