Heathrow airport says CAA price cap is draconian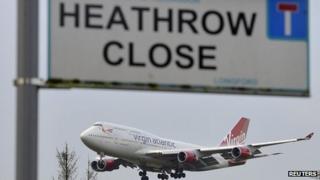 Heathrow has accused the UK's aviation regulator of draconian action, after it capped the amount the airport is allowed to charge airlines.
In a surprise move, the Civil Aviation Authority (CAA) announced that Heathrow can only increase its charges by less than the rate of inflation.
Price rises will be limited to 1.5% below inflation for the next five years, starting in April.
The CAA said that passengers would benefit from lower prices as a result.
Heathrow had asked for a rise of 4.6% above the RPI inflation rate.
The CAA had previously proposed that Heathrow would be allowed to increase its charges in line with inflation.
Colin Matthews, Heathrow's chief executive, said: "In October the CAA accepted the need for changes to its April proposals, but has now reverted to a draconian position."
"We will review our investment plan to see whether it is still financeable in light of the CAA's settlement," he added.
The airport will now consider whether to appeal against the plan.
But the CAA said the benefits to passengers would be clear.
"They will see prices fall, whilst still being able to look forward to high service standards, thanks to a robust licensing regime," said Dame Deidre Hutton, chair of the CAA.
Stansted
The CAA also decided that Stansted airport would no longer have its prices regulated, at least as far as the passenger market is concerned.
It concluded that the airport did not have "substantial market power", suggesting that airlines have a freedom to move elsewhere if prices become too high.
But that claim was described as "false" by Ryanair, one of Stansted's biggest customers.
The airline has consistently complained about high charges at the airport, and it says the CAA's decision is likely to mean even higher charges in future.
"Today's decision is an example of the CAA's regulatory failure which will again harm consumers, as Stansted will be able to further increase airport charges whenever it wishes," said Juliusz Komorek, Ryanair's director of legal and regulatory affairs.
Gatwick has already promised to maintain prices in line with inflation. The CAA said it would monitor the outcome.