Infosys raises sales outlook as it reports earnings jump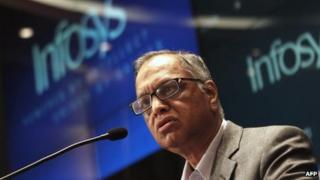 Infosys has raised its full-year sales outlook as it reported a 21% rise in earnings for the three months to December compared with a year earlier.
The company reported net profits of 28.75bn Indian rupees ($463m; £281m) for its fiscal third quarter.
For the year to March, it now expects a 12% rise in revenues, compared with a previous estimate of 10%.
Much of the company's turnaround is being attributed to the return of founder N R Narayana Murthy.
Mr Murthy returned as the company's chairman in June last year, nearly 10 years after he had given up executive control. He rejoined at a time when Infosys was suffering from shrinking revenues, rising employee attrition and sinking morale.
The company's performance has also been boosted by an economic revival in US and Europe, which has led to more demand for outsourcing services.
New clients
In a statement released with the latest earnings, S D Shibulal, chief executive and managing director at Infosys said: "The year ahead looks exciting for the IT services industry. We believe the global economic environment has improved and our clients are gaining confidence to invest in their strategic initiatives."
India's second biggest software services exporter added 54 new clients in the final three months of last year.
It now serves over 150 active customers, and its client list includes Bank of America as well as the UK's BT Group.
Infosys is seen as a key indicator of the health of India's IT outsourcing industry, which is valued at more than $100bn.