Record online sales over Christmas, says BRC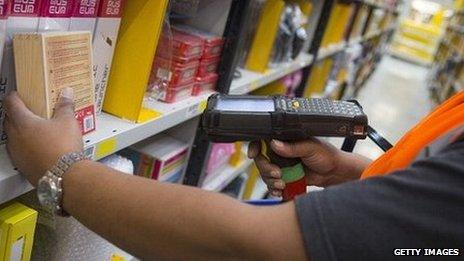 A record amount of online shopping was done in December 2013, says the British Retail Consortium (BRC).
There was also a 19.2% growth in internet purchases from a year earlier, the fastest increase in four years.
However, UK retail sales in total rose by just 0.4% on a like-for-like basis. The BRC said the figures represented a "respectable overall result".
Online trading in general represented 18.6% of total non-food sales for the final month of 2013, an increase from 16.5% a year earlier.
The BRC's director general, Helen Dickinson, said retailers had invested in their websites and improved delivery times, and added that the surge in the popularity and use of smartphones and tablets had also contributed to the rise in online retailing.
She also highlighted multichannel offerings by some retailers as one of the key factors over Christmas.
"This Christmas we've seen innovative retailers using click and collect and other approaches to make a virtue of both their website and their physical shops. And that's something we see growing in importance."
David McCorquodale, head of retail at KPMG, who conducted the survey for the BRC, said internet sales had surged in the run-up to Christmas.
"Retail sales growth is being driven by the click of a mouse, rather than the ring of the tills," he said.
Ms Dickinson said the overall sales figures were in line with the BRC's prediction that Christmas trading in 2013 "would reflect that while confidence levels were higher than the previous year, this wasn't always matched by more money in pockets".
She added it drew to a close "what has been a year of encouraging but fragile recovery".
The BRC's survey found there had been a 0.6% decline in food sales the past quarter.
Trading updates from some of the UK's biggest supermarkets on Thursday showed that sales had suffered as competition increased.
Like-for-like sales for the chain Morrisons fell 5.6% in the six weeks to 5 January. Tesco's like-for-like sales also were down by 2.4% during the Christmas period.
Morrisons said that its lack of online presence had hit sales, while it also suffered from competition from discount supermarket chains such as Lidl and Aldi.
The online retail boom was very much in evidence in late 2013, with many High Street chains expanding their internet offerings, and some shops reporting record figures for the amount customers purchased online around Christmas.
Last week, both John Lewis and Next reported rising sales over the Christmas period, with both retailers experiencing a big jump in online sales.
Related Internet Links
The BBC is not responsible for the content of external sites.