Bank of England gives no further guidance on rates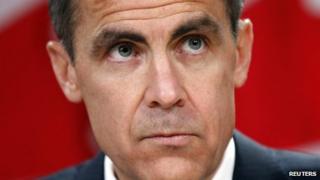 The Bank of England has given no further guidance on when it might raise interest rates, after deciding to keep them on hold at 0.5% once again.
There had been speculation that the Bank might have to refine its threshold for increasing rates.
Back in August, governor Mark Carney said unemployment would have to decline to 7% before an interest rate rise would be considered.
An improved economy has meant that could happen sooner than expected.
The Bank also made no further addition to its £375bn bond-buying scheme known as quantitative easing (QE).
Base rates have now been at 0.5% since March 2009.
Rise in 2014?
Five months ago, the Bank anticipated that the 7% threshold would not be reached until 2016.
However, unemployment has already fallen to 7.4%, and many expect it to fall below 7% some time this year.
Yet the City is still not expecting a rise in rates before mid-2015 at the earliest.
However some economists believe there is now an outside chance of a rate rise as soon as this year.
"With unemployment currently falling sharply, and growth in 2013 now likely to have come in close to 2.0%, expectations are mounting that the Bank of England could very well start to raise interest rates in 2014," said Dr Howard Archer, chief European and UK economist with IHS Global Insight.
But Mr Carney has repeatedly made it clear that a fall in the unemployment rate to 7% would not result in an automatic rate rise.
It is likely that the Bank would employ other tools, such as controls on mortgage lending, before it considers putting up interest rates.
Further guidance may be given when the Bank publishes its quarterly inflation report next month.