Gap between exports and imports narrows in November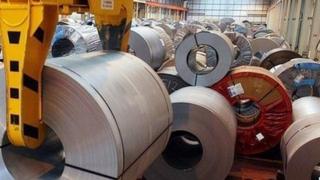 The gap between imports and exports of goods shrank in November, the Office for National Statistics (ONS) has said.
The ONS said the goods trade deficit narrowed to £9.4bn, compared with £9.7bn in October.
It added that exports were boosted by higher sales to recovering economies in the European Union.
Including services, in which the UK traditionally has a surplus, the overall trade deficit narrowed from £3.5bn to £3.2bn.
"In November 2013, exports of goods to the European Union (EU) increased by £0.6bn to £12.8bn reflecting an increase in the export of chemicals of £0.4bn," the ONS said.
"Imports from the EU increased by £0.5bn to £19.2bn, a record high attributed mainly to cars," it added.