Marks and Spencer sees another fall in clothes sales division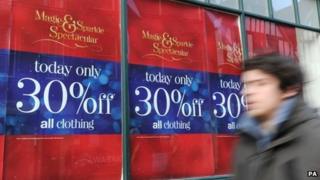 Marks and Spencer has suffered another fall in sales at its beleaguered clothing and homewares unit, the general merchandise (GM) division.
Like-for-like sales, which exclude new store openings, were down 2.1% in the three months to the end of December.
There was a small improvement over the last eight weeks, during which M&S launched a sale, with GM sales up 0.5%,
Overall, group sales rose 0.2% in the third quarter, with food up 1.6% and online sales jumping 22.7%.
M&S shares were down 1.6% a few minutes into trading, but later rebounded and were up more than 3% by the early afternoon.
Chief executive Marc Bolland said: "We delivered an improved performance in general merchandise over the important Christmas period. However, an exceptionally unseasonal October, which saw GM sales down strongly, has resulted in a quarterly performance below our expectations."
The fall in like-for-like sales in the GM operation is the 10th successive quarterly drop.
M&S said in a statement that it had "been a challenging quarter for the general merchandise market, with unseasonal conditions and higher levels of discounting".
'Step-by-step'
M&S staged a flash sale on the Saturday before Christmas, with 30% reductions off clothing lines, which the company said on Thursday would hit margins.
Mr Bolland said the food business, which contributes more than half of group sales, had an "excellent" quarter. On 23 December, the chain had its biggest day yet for food, with sales of £64m, he said.
He said that there had been "early signs" of improvement in sales of women's clothes, and that improvements in the GM division would be a gradual process.
Mr Bolland told the BBC: "The step-by-step approach to improve our general merchandise is slowly improving but we have always said that it will be step-by-step.
"Our market share has been stabilised over the quarter and it has even been for womenswear slightly improved."
M&S shares have fallen in recent weeks, but Mr Bolland said that the retailer's largest shareholders understood the company was undergoing a major transformation that would take time.
Finance director Alan Stewart said later that M&S's executive team, led by Mr Bolland, retained the backing of the retailer's board and investors.
"The board is behind us and behind the strategy and the shareholders are behind us and behind the strategy," he told reporters.
Sir Stuart Rose, former executive chairman at M&S, said he thought "overall" it had been a good Christmas for retailers.
He said: "What we have seen is a polarisation between those who have done well, and those who have done less well. But that's down to their own goods and services being up to scratch, rather than the fact there isn't the demand from the consumer."
Sir Stuart said shoppers' confidence was up, but "people are buying very selectively".
Keith Bowman, equity analyst at Hargreaves Lansdown stockbrokers, said: "Given low prior expectations, investors appear to be breathing a sigh of relief.
"On the upside, food sales have again grown, with the trend for embattled consumers to reward themselves with premium food again evident.
For now, investors are still being asked for patience. The former Morrisons chief executive [Mr Bolland] continues to be given the benefit of the doubt."
Reshuffle
There have been mixed signals from the High Street, with Next, John Lewis and House of Fraser performing strongly, but disappointment for Debenhams and Mothercare.
Also on Thursday, Tesco reported like-for-like sales down 2.4% in the six weeks to 4 January because of a "weaker grocery market".
At the same time, rival Morrisons reported a 5.6% drop in like-for-like sales.
High Street sales started well before Christmas, something underlined by data from the British Retail Consortium, which reported on Wednesday that shop prices fell by 0.8% in December, the fastest rate in almost seven years.
Mr Bolland has reshuffled some key staff in the hope that a new clothing range, heavily promoted with a marketing campaign featuring the likes of Dame Helen Mirren, Tracey Emin and Darcey Bussell, would start delivering results.
The executive makeover saw a new head of the GM division, John Dixon, brought over from the successful food section in October 2012, while Belinda Earl, the former Jaeger and Debenhams boss, became style director the month before.