India eases gold lending rules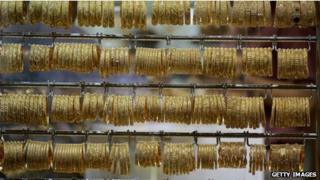 India's central bank has increased the amount that finance companies can lend in return for gold deposits.
Under the new rules, non-banking finance companies (NBFCs) can lend up to 75% of the value of gold, from 60%.
The central bank revised the rules because their gold loan portfolios were showing only moderate growth.
Lending against gold is a fast-growing business in the Indian economy, and the industry is valued at more than $20bn (£12bn).
India is placed 11th in the global ranking for gold holdings by central banks, with 8.4% of its reserves held in gold, according to the World Gold Council.