Moody's cuts Qantas credit rating to 'below investment'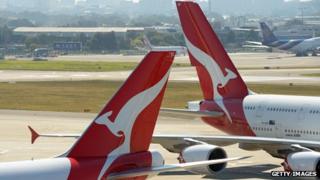 Moody's has become the second ratings agency to downgrade the credit rating of Qantas to below investment grade.
Last month, Qantas issued a profit warning and announced 1,000 jobs cuts amid strong competition in domestic and international markets.
Moody's said a "sharp deterioration in the company's core domestic business" was a key reason for the downgrade.
Profits at its domestic operations, the biggest contributor to Qantas's growth, fell 21% in the last financial year.
Moody's cut the airline's rating to Ba2 from Baa3, adding that the outlook on ratings was "negative".
"The downgrade to Ba2 reflects a worse than expected impact on Qantas' credit profile of a marked sharp deterioration in the company's core domestic business, which has been a key supporting factor of its previous investment grade rating", Ian Lewis, vice president at Moody's, said in a statement.
The downgrade by Moody's follows a similar cut by Standard & Poor's last month.
'Will remain challenged'
Qantas's international operations have been struggling for some time, hurt by several factors including higher fuel costs, subdued travel demand and increased competition.
Its domestic operations have also come under pressure recently, partly because of the success of rival carrier Virgin.
Moody's said that Virgin's growth in Australia had "shifted the market dynamic against Qantas in a structural way" and that Qantas's domestic business "will remain challenged".
The ratings agency said that Qantas' profit margins were likely to be hurt by its efforts to maintain its domestic market share.
Last month, Qantas warned that it expects to make losses of up to A$300m ($271m; £165m) in the July-to-December period - the first half of the current financial year.
"The material downturn in Qantas' domestic business also comes at a time when the carrier is grappling with a turnaround in its loss making international mainline business," said Mr Lewis.
"As such the business is exposed to execution challenges on two fronts, simultaneously," he added.