Rolls-Royce says it is looking at designs for a 4x4 vehicle, as it reports record sales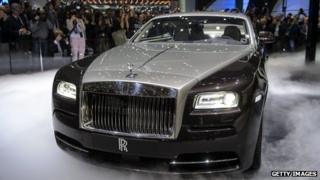 Rolls-Royce has said it is looking at designs for its first 4x4 vehicle, as it posted record sales for a fourth year running.
Chief executive Torsten Muller-Otvos told the BBC that Rolls-Royce had started looking at "new designs", but there were "no firm plans yet".
He said he was seeing how the brand could fit in with the 4x4 market.
The luxury carmaker also said it delivered 3,630 cars to customers in 2013, a 1.5% increase on 2012.
In an interview with BBC Radio 5, Mr Muller-Otvos said: "We have started processes to look at new designs (for 4x4 vehicles) and first ideas, but there are no firm plans yet to say this is what we will do."
Rocketing sales
To help meet demand after its successful year, the carmaker, which is owned by BMW, says it plans to hire 100 staff at its manufacturing plant in Goodwood, Sussex in 2014.
Rolls-Royce launched the Wraith model at the Geneva Motor Show in March 2013 and started delivering the car to customers during the fourth quarter.
"We have reported a strong year and have maintained our position at the pinnacle of the super-luxury market," said Mr Muller-Otvos.
The strongest sales growth was seen in the Middle East, which recorded a rise of 17%, as well as China, where sales rose 11% last year.
Rolls-Royce now employs more than 1,300 staff after hiring 100 additional workers in 2013.
It is estimated that the UK car industry produced 1.5 million cars in 2013, which would be a six year high.
Most cars are made for export, but the UK market has been recovering.
Last year, it had its best year since 2007.