Retail prices see record fall in December, BRC says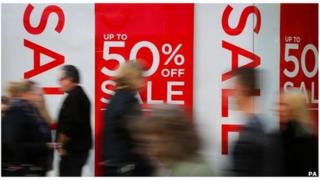 The retail lobby group the British Retail Consortium (BRC) said the price of goods in December fell by a record 0.8%, its fastest rate since its survey began in 2006.
It marks the eighth monthly drop in a row.
The BRC said it saw discounting on high streets and in supermarkets.
The organisation, which represents 80% of stores, called it a "double whammy of good news for cash-conscious customers".
Food prices continued to rise, although inflation here was at 1.7% according to the BRC, its lowest level for more than three years.
Non-food prices were 2.3% lower.
'Cheer'
The figures, which were were compiled in association with the business information specialists, Nielsen, suggest the retail sector will help to contain the overall official inflation rate, which also takes account of energy and transport costs, both of which have risen this year.
Despite higher costs for these essentials, consumer price inflation has been falling sharply across the board in recent months, hitting a four-year low in November of 2.1%.
But with wage rises running at less than half that, consumers have less to spend and retailers are fighting hard among themselves to ensure that what is spent, is spent in their stores.
Government inflation figures are scheduled for release next Tuesday.
Mike Watkins, head of retail and business insight at Nielsen, said December's price falls were good news: "This will have brought a festive cheer to shoppers filling their trolleys with food and drink at supermarkets, especially as Christmas fell later this year.
"With the continuation of price cuts and promotions across all of retailing, and with many shoppers holding back on shopping to the last week, there will have been bargains and some great savings for the savvy Christmas shopper."
Although the price falls will have been welcomed by many consumers, the lower profit margins they imply for retailers will make life tougher for some.
The BRC said retailers were forced to cut prices in the run-up to Christmas because of weak sales.
Missed targets
Leading stores, which are in the middle of announcing their Christmas sales figures, have presented a mixed bag of results so far.
Debenhams was one of the biggest price-cutters before Christmas discounters, yet it failed to attract sufficient customers and profit and issued a profit warning.
Sainsbury's reported record trading in the run up to Christmas but took the edge off that news when it said it was unlikely to meet its sales targets.
Child-centred chain Mothercare's trading update proved so disappointing its shares fell by as much as 30%. It blamed its performance on the price-cutting climate.
Still to come are updates from market leaders Tesco and Marks and Spencer.
The BRC said: "While inflationary pressure in the supply chain remains benign, deep and widespread discounts have come at the expenses of profit margins."