Alan Mulally rules out joining Microsoft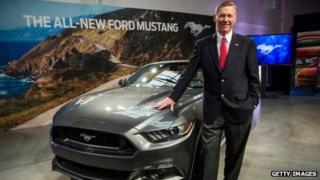 Alan Mulally, the chief executive of Ford, has said he will not be leaving the US carmaker to join Microsoft.
There had been reports that Mr Mulally was one of candidates shortlisted to replace Microsoft's outgoing chief executive Steve Ballmer.
Mr Ballmer said in August that he would leave the firm within 12 months.
Mr Mulally, who is credited with reviving Ford, said he will not leave the carmaker before the end of this year.
"I would like to end the Microsoft speculation because I have no other plans to do anything other than serve Ford,'' Mr Mulally told the Associated Press news agency.
"You don't have to worry about me leaving.''
Distraction?
In an interview given to the Associated Press, Mr Mulally did not confirm if he had held any discussions with Microsoft about the job, but said the ongoing speculation was a distraction for Ford.
Mr Mullay's comments come as the carmaker is looking to build on its recent success.
Last year was one of the most profitable ones in Ford's history and the company expects to make about $8.5bn (£5.2bn).
This year, the carmaker is embarking on its most aggressive product launch schedule in its history.
Ford will launch 23 all-new or significantly refreshed vehicles around the world in 2014 - more than double the global vehicle launches last year.