Eurozone inflation rate falls to 0.8%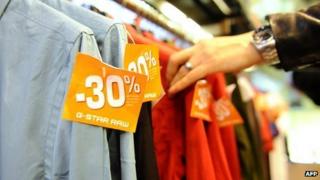 The eurozone's inflation rate fell to 0.8% in December, official figures have shown, down from 0.9% in November.
The Eurostat estimate shows the inflation rate moving further away from the European Central Bank's (ECB) target of just below 2%.
In November, the ECB cut its benchmark interest rate to a record low of 0.25%, reflecting the low inflation outlook.
The ECB will gather for its latest meeting later this week, although no changes to policy are expected.
The latest data may fuel concerns that the eurozone risks a period of deflation, in which consumers delay purchases in the expectation that prices will fall further.
Last week, ECB president Mario Draghi said there were no signs of deflation or an urgent need for another rate cut. But he added that it was important that inflation did not get stuck permanently below 1%.
Peter Vanden Houte, ING's chief eurozone economist, said: "Today's figures show that it's too early for the ECB to become complacent about deflation risks, especially in peripheral countries."
The euro rose to $1.3646 from $1.3618 on speculation the ECB might take more action to support the eurozone' economy.
'Weakest'
In October, the eurozone's inflation rate fell to 0.7%, the first time it had dropped below 1% since February 2010. This prompted the rate cut from the ECB.
In Tuesday's figures, analysts highlighted the "core" rate of inflation, which excludes energy, food, alcohol and tobacco. This fell to an all-time low of 0.7%.
"It constitutes the weakest reading on record and reflects a marked slowdown in services price inflation," said James Ashley, senior economist at RBC Capital Markets.
The worry is that muted wage rises and high unemployment in the eurozone will continue to force prices lower. Meanwhile, the relatively high value of the euro has made imports cheaper, while making exports more expensive.
Eurostat also released industrial producer price data for November, showing a 0.1% fall on the month after a 0.5% drop in October.