French Goodyear workers hold managers captive in Amiens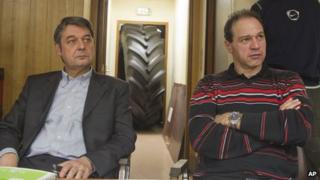 Workers at a Goodyear tyre factory in Northern France have been holding two managers captive in a dispute over plans to close the plant.
The director of production at the plant in Amiens, Michel Dheilly and human resources chief, Bernard Glaser have not been allowed to leave the plant.
Staff and management have been negotiating for years over how to deal with the loss-making plant.
The union is pushing for a redundancy plan with more generous payoffs.
Franck Jurek of the factory's works council described the atmosphere at the plant as a "calm".
"If there is no buyer, (we want) a plan for voluntary redundancies for everyone with loads of money," he said.
French workers have a history of holding managers captive, although so called "bossnappings" were more common during the height of the financial crisis.
Companies including, 3M, Sony and Caterpillar were affected in 2009.
Generally workers have not been prosecuted for holding their bosses captive.
According to the CGT union, the two managers have been given water and still have their mobile phones.
"This kind of initiative, always to be condemned, is especially inopportune and counterproductive at a time when we should concentrate on the future of employees affected by the restructuring, after several years looking for a solution," Goodyear said in a statement.