Co-op: UK regulators to launch formal investigation of bank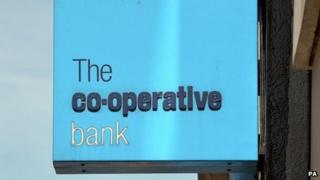 Financial regulators have begun a formal investigation into the troubled Co-operative Bank.
The Bank of England's Prudential Regulation Authority (PRA) said that its investigation would consider the role of former senior managers.
The Financial Conduct Authority (FCA) also announced an investigation, which follows the bank's near-collapse and revelations about its former chairman.
The PRA and FCA have the power to impose fines and other sanctions.
Co-op Bank was rescued last year under a deal with its bondholders, following the disclosure that it faced a £1.5bn black hole.
The PRA and FCA had been assessing whether problems at the Co-op Bank warranted a formal probe.
The PRA regulates banks, insurers, and investment firms. The FCA is more concerned with consumer protection.
'Serious challenges'
In a statement, the PRA said that it was "undertaking an enforcement investigation in relation to the Co-operative Bank and as part of that investigation will consider the role of former senior managers.
"No further information will be provided on the investigation until the legal process has concluded and an outcome has been reached.
"The Treasury has previously indicated that the independent review announced by the chancellor will not start until it is clear that it will not prejudice any actions that the regulators may take. The PRA will work with the Treasury to ensure that the enforcement investigation and the independent review are sequenced appropriately."
The FCA issued a similarly short statement, but added that its "investigation will look at the decisions and events up to June 2013".
In November, Chancellor George Osborne said there would be an independent inquiry to look into "events at the Co-op Bank" dating back to 2008. The review will include the conduct and appointment of directors.
But exactly when that review will now start, and who will lead it, has yet to be decided.
In addition to the bank's financial problems, it was hit by scandal when Mr Flowers was arrested for alleged drugs offences.
Last month, Labour's former City minister Lord Myners was appointed to the board of the Co-op Group as senior independent director to chair a governance review.
He said at the time that the group was at a "crucial point" in its development and faced "serious challenges".