Boeing reports record orders and deliveries for 2013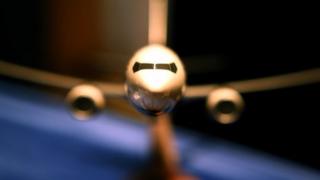 Boeing has revealed record deliveries and orders for 2013, putting it on track to become the world's largest plane maker for a second consecutive year.
The plane manufacturer delivered 648 commercial planes last year and had a backlog of 5,080 unfulfilled orders - both company records.
The figures mean it is likely to have beaten rival Airbus which will reveal its 2013 orders on 13 January.
Airbus is expecting 620 deliveries.
Boeing Commercial president and chief executive Ray Conner said all three of its US-based commercial plane factories had delivered a record number of planes.
"The Boeing team performed extremely well in 2013," he added.
Overall, Boeing booked a record 1,531 gross commercial orders for the year, with 1,355 net commercial orders, the second-largest in its history.
Boeing said three of its plane-making programmes had set individual records for delivery: its next generation 737 of which it delivered 440 in 2013, its long-haul 777 of which it delivered 98 and its 787 Dreamliners of which it delivered 65.
Battery issues
The record deliveries for Boeing come despite a series of problems with its 787 Dreamliner last year, which meant deliveries were halted for four months.
In January, the aircraft was grounded after a fire broke out on a Dreamliner belonging to Japan Airlines (JAL) and an All Nippon Airways (ANA) Dreamliner was forced to make an emergency landing because of a battery fault.
In July, a fire broke out on a 787 jet operated by Ethiopian Airlines while it was parked at Heathrow airport. It was traced to the upper rear part of the plane where a locator transmitter is situated.
Then in August, ANA said it had found damage to the battery wiring on two 787 locator transmitters during checks. US carrier United Airlines also found a pinched wire during an inspection of one of its six 787s.
Despite the setbacks, Boeing was able to step up the pace of production once deliveries resumed in May.
Of the 65 Dreamliners built last year, 25 were delivered in the final three months of 2013.