Scottish Power cuts prices for standard tariff customers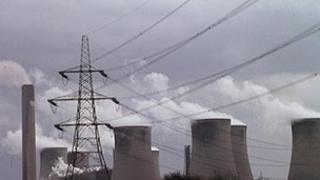 Scottish Power has become the fourth energy supplier to announce a cut in tariffs, following changes announced by the government.
It says customers on a standard dual fuel tariff will see a reduction of £54 on their annual bill from 31 January.
The cut of 3.3% will only partly off-set a price rise of 8.6% which came into force in December 2013.
The company said the reduction will not apply to most customers who are on fixed rate tariffs.
However, it said that 97% of such customers are already paying less than those on standard tariffs.
The savings are in line with government changes to green levies, which were designed to lower fuel bills.
So far British Gas and SSE have announced that price cuts will apply to all their customers, whatever their tariff.
SSE has said it will cut prices by around 4% from the beginning of April, although it has not yet announced the details.
But EDF and E.On, like Scottish Power, have applied price reductions only to those on standard, or variable, rates.
Npower has said it is still reviewing its prices, after increasing them by 10.4% in the autumn of 2013.
The price comparison website MoneySuperMarket.com has called on energy suppliers to follow the example of British Gas and SSE, and cut all their tariffs.