Compensation for Christmas power cut from distribution firm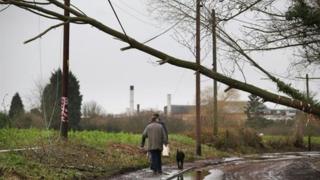 Residents in southern England who were left without power over Christmas following severe weather will receive compensation.
Scottish and Southern Energy Power Distribution said it would pay £54 to all domestic and business customers who were without electricity for 48 hours.
Further payments of £54 for each subsequent full 12-hour period without power will also be made.
Those affected for any length of time on Christmas Day will receive £75.
Strong winds brought down power lines just ahead of Christmas. The south east of England was worst-hit by the power failures.
Scottish and Southern Energy Power Distribution (SSEPD) covers the area from Yeovil in Somerset to West London and from Oxfordshire to the Isle of Wight, as well as northern Scotland.
On Sunday, UK Power Networks - which owns electricity lines and cables in London, the South East and East of England - said it would pay compensation.
Power supplier Electricity North West, which connects about 2.4 million properties in the north west of England, said it was paying compensation to 2,500 customers who were without power over the Christmas period.
'Let down'
Tens of thousands of homes in north Wales and Cumbria were also left without power because of the storms, which caused travel disruption and flooding.
This prompted criticism from Environment Secretary Owen Paterson who said power companies should have been aware that the Environment Agency was warning of severe weather in the run-up to Christmas.
"Quite clearly some of the power companies let their customers down badly," he told the BBC at the end of December.
"It seems obvious at this stage that they let too many of their staff go away for the Christmas holiday, they didn't have enough people manning the call centres and that wasn't acceptable."
However, in a statement, SSEPD said that it had mobilised more than 500 engineers and support staff "who worked with determination and dedication from early in the morning to late into the night throughout the festive period".
They repaired about 850 separate faults, many of which were initially inaccessible due to the conditions, it said.
"During this time, we restored power to over 130,000 customers, with around 95% of those who lost power early on Christmas Eve having their power restored on Christmas Day and the final customers by 28 December," it added.
"Our customers' patience during this time was exceptional."
It said it provided hot meals and accommodation to those affected at the time, but would now also offer compensation payments.
The company said it was writing to those affected, but compensation claims could be made online. Customers eligible for priority services would receive payments automatically. Others should be sent a cheque within three to five weeks, the company said.