UK construction sector growth remains strong, survey says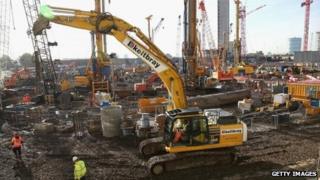 Growth in the UK's construction sector remained strong in December, a survey suggests, with work on commercial projects seeing a sharp rise.
The latest Markit/CIPS purchasing managers' index (PMI) for the sector recorded a level of 62.1 last month.
While this was below November's six-year high of 62.6, it was still well above the 50 level that marks the divide between growth and contraction.
On Thursday, the PMI manufacturing survey also showed strong growth.
Wider recovery
Markit said the latest survey indicated that the construction industry had now seen output grow for eight months in row.
House building remains the fastest growing area of construction last month, although the pace of growth has slowed slightly from November.
However, Markit said that the construction sector was now seeing a broader recovery, with commercial building work rising at the fastest pace since August 2007.
The industry has also seen jobs increase for seven months in a row.
"The improving UK economic outlook is helping boost private sector spending patterns, meaning that the construction recovery has started to broaden out from housing demand and infrastructure projects to include strong growth in commercial building work," said Tim Moore, senior economist at Markit.
The survey is further evidence that the UK's economic recovery is continuing.
On Thursday, Markit said that its PMI survey for manufacturing in December showed the sector's recovery remained "on track". The PMI survey for the services sector is due to be released on Monday.