Murdoch sells stake in Chinese television stations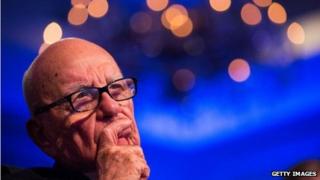 Rupert Murdoch's 21st Century Fox has sold its 47% stake in the Chinese television company, Star China TV.
21st Century Fox had owned a majority stake in the television firm but sold that in 2010 to China Media Capital, in a deal interpreted as marking a move away from China for the Murdoch empire.
Mr Murdoch met his former wife Wendy Deng in 1999 while she was working for Star China TV.
The company operates three Mandarin-language television stations.
Ruigang Li, Chairman of China Media Capital, which will now take full control of the television company said in a statement: "This latest transaction marks a new era for Star China and we remain committed to building the company into one of the most respected entertainment companies in China."
'Streamlining'
The announcement, made by Fox and China Media Capital (CMC), said the China-based holding firm would acquire the portion of the joint venture it does not already own.
Formed in 2010 and majority-owned by CMC, the joint venture operates three 24-hour channels: Xing Kong, Xing Kong International and Channel 1/8V 3/8 Mainland China. It also operates the Fortune Star Chinese movie library.
James Murdoch, Rupert Murdoch's son and chairman and chief executive of international operations at 21st Century Fox, said the divestment "is part of streamlining our affiliate ownership structures".
Ruigang Li said: "As our respective businesses continue to evolve, we look forward to more opportunities to work together going forward."
Mr Murdoch split his corporate empire into two parts in June under a long-promised plan to "unlock value" by separating high-flying entertainment operations from struggling publishing activities.
He remains in charge of both.
The 21st Century Fox group includes the Fox Hollywood studios and television entities, which are showing stronger growth than the publishing arm News Corp, which includes struggling newspapers.