UK manufacturing growth remains strong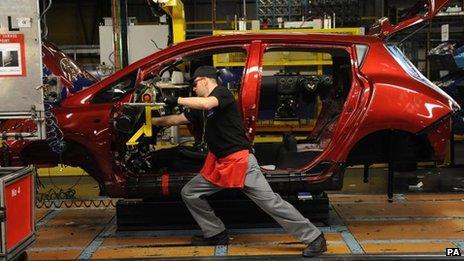 The UK's manufacturing sector continued to see strong growth last month, according to a closely watched survey.
While this was down slightly from November's near three-year high of 58.1, it was still well above the 50 mark that indicates expansion.
Markit said that the latest figure suggested the manufacturing recovery remained "on track".
"UK manufacturing's strong upsurge continued at the end of 2013, with rates of growth in production and new orders still among the highest in the 22-year PMI survey history," said Rob Dobson, senior economist at Markit.
"On its current track, the sector should achieve output growth of over 1% in the final quarter while filling around 10-15 thousand jobs, continuing its positive contributions to both the broader economic and labour market recoveries."
Recent official data and survey results have indicated that the UK economy is continuing to strengthen.
Markit said that growth in manufacturing output and new orders remained "robust", helped by the strengthening UK economy and an increase in new export orders.
The research firm said manufacturers had seen increasing demand from Brazil, China, Ireland, Russia and the US.
The latest survey also showed signs of inflationary pressures building within the sector, with both average input costs and output charges rising at faster rates last month.
"With headline CPI inflation softening for a variety of reasons, this trend in manufacturing price pressures is not likely imminently to trouble the Bank of England," said David Tinsley, UK economist at BNP Paribas.
"But it does underline that inflation is not dead in the UK, and the economy is likely to sustain a materially higher inflation rate than its peers in 2014."
Related Internet Links
The BBC is not responsible for the content of external sites.