Q&A: Rail fare rises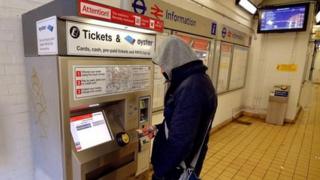 Thousands of commuters heading to work after the New Year holiday are facing higher rail fares.
An average 2.8% increase in rail fares is the smallest rise in four years, although campaigners say they are going up faster than wages.
The picture for rail travellers can be confusing - with prices for season tickets going up at a different rate than some other types of tickets.
There are also varying price changes in different parts of the UK.
Can we start with the basics?
An increase in rail fares, by an average of 2.8%, came into effect on Thursday. There is usually a rise at the start of every year, but this is the smallest for four years.
About half of tickets sold are known as "regulated" fares. That price is set by the government, originally because it felt it should control fares to protect passengers who did not have much of a travelling alternative. Most season tickets are included in this category.
In the Autumn Statement, Chancellor George Osborne said these fares would go up in line with increases in the cost of living, using July's Retail Price Index to measure it, so they are rising by 3.1%.
Unregulated fares, such as off-peak leisure tickets, are set by the train companies, not the government. Many of these have seen a lower price rise, pushing down the overall average increase to 2.8%.
But, remember, these are averages. Some fares have recorded bigger rises, some smaller. The companies have some wriggle room.
But these changes aren't the same everywhere?
Correct. The setting of regulated fares is devolved.
So, in Wales, season tickets are going up by less than inflation, although the average increase in regulated fares overall will be the same as England, 3.1%.
In Scotland, regulated fares during peak times have risen by 3.1%, but off-peak regulated fares are frozen at 2013 levels.
There are no planned rises in Northern Ireland.
Meanwhile, for commuters in London, season tickets on travelcards will go up by 3.1% on 19 January, instead of 2 January.
Where does this money go?
All fares - regulated and unregulated - are collected by the train companies.
Each company has a franchise agreement with the government, so some of this money goes to the Treasury. In turn, it gives some to Network Rail to maintain rail infrastructure.
The Rail Delivery Group - which represents the train operators and Network Rail - says that for every £1 of a train company's income, an average of 3p goes to that company's profits.
The biggest chunks go to investment in the rail network (26p in the £1), staff costs (25p in the £1), and maintaining track and trains (22p in the £1), it says.
Why do prices have to go up?
This comes down to a fundamental point about funding of the railways.
The government wants passengers - rather than the taxpayer - to pick up more of the bill when it comes to running the railways.
At the moment, the government pays around 32% of the total railways bill. It is widely believed that ministers want to cut that to 25%.
So can we expect more fare rises in the future then?
That looks likely, given that there is lots of government investment in electrifying lines, to make them quicker and more reliable, and building new stations which need to be paid for.
Yet, the Scottish government has already said that it will cap regulated fares at the Retail Prices Index measure of inflation in January 2015 in the same way as it has this time around.
However, a report commissioned by the Campaign for Better Transport suggested that fares were rising so fast that by 2018, the UK government would be "making a profit" from passengers.
It said that fares revenue would cover 103% of the operating costs of the railways, up from 80% in 2009.
It is up to individual passengers to work out if they are getting a better deal and a better service than other forms of transport.