Debenhams warns on Christmas sales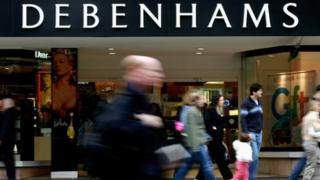 Shares in Debenhams have plunged after the department store warned of poor sales during the key Christmas period.
It said that it now expects its pre-tax profits for the six months to April 2014 to be £85m, down from £115m in the same period this year.
Analysts had been expecting pre-tax profits of £110m for that period.
"We did not experience the anticipated final surge in sales in the last week of the [Christmas sales] period," the retailer said.
Debenhams was due to release its trading statement - covering the 17 weeks to 28 December - on 17 January, but updated the market early.
'Difficult environment'
Shares in the department store chain closed down 12.2% on the last trading day of the year.
Michael Sharp, the chief executive of Debenhams, said: "As has been widely commented on in the media, the market was highly promotional in the run up to Christmas and we responded to these conditions to ensure our offer was competitive.
"However, this extremely difficult environment has inevitably had an impact on both our sales and profitability."
The firm said it had cut prices substantially in the run-up to Christmas and planned to offer higher markdowns in the January sales to move its stock.
It said online sales grew by 27% for the 17-week period, but delivery income from the growth in online shopping was lower than anticipated.
The company has been upgrading and modernising stores in recent years, as well as opening new ones. It has spent £25m on refurbishing its flagship store in central London.
It plans to open a further 14 stores in the next four years.