Tesco's $110m India expansion given go-ahead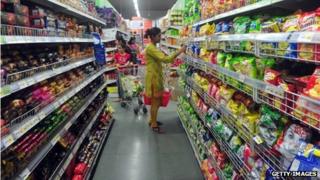 Tesco's plans for expansion into India have been approved by the country's government.
The British retail giant intends to invest $110m (£68m) in India's closely-protected retail sector.
It will set up a chain of supermarkets in partnership with the Indian Tata Group.
Tesco is the first global food retailer to get approval to invest in India since the government decided to open up the supermarket sector last year.
India's Foreign Investment Promotion Board (FIPB) also approved a proposal by the British telecoms group, Vodafone, to take full ownership of its Indian business.
However, this deal will need to go through several stages before it is complete.
The approvals are seen as a vote of confidence in India's slowing economy which has struggled to attract foreign investment in the past because of restrictive bureaucracy and political opposition.
A Tesco spokesman said the company could now start work on the "practicalities" of setting up its joint venture with Tata.
Liberalisation
The deal itself sees Tesco take a 50% stake in Tata Group's Trent Hypermarket.
The company already supplies much of the produce in Tata's Star Bazaar shops, and has been in partnership with Tata since 2008.
Though the rubber-stamping of the Tesco plan will be taken as a good sign of the liberalisation of India's retail laws, in October, the world's largest shop group Wal-Mart terminated its joint venture with India's Bharti Enterprises, after it faced regulatory hurdles.
However, others, such as Hennes & Mauritz (H&M), have also been given final approval by India's government to open stores there.
The Swedish retailer announced in early December it planned to invest 7.2bn rupees ($115.5m; £70.2m) and open 50 stores across the country.
Marks and Spencer has also been keen to seize the potential of India's retail market. It already has a presence in India, and it plans to double its store count to 80 - making the country its biggest overseas market.
India's rules governing foreign direct investment (FDI) in the retail sector were eased in August 2013.
Previously, it was compulsory for foreign supermarkets to source 30% of their products from small Indian firms. The government now allows foreign firms five years in which to reach that target, giving them the option of importing goods from overseas initially.
Foreign retailers will also be allowed to set up shop in cities with a population of fewer than one million - they had previously been banned.