Cooper Tires ends $2.5bn deal with India's Apollo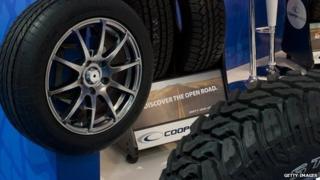 India's Apollo Tyres $2.5bn (£1.5bn) takeover of US tyremaker Cooper Tire & Rubber has collapsed after a legal stand off and months of delays.
The all-cash deal would have been one of the biggest ever takeovers of a US firm by an Indian company.
But Cooper said it would terminate the deal after Apollo said financing was no longer available for the takeover.
Indian firms like Apollo have been eyeing overseas investments amid a slowing domestic economy.
The takeover proposal was announced in June, but the cross-border deal has faced legal wrangles in the US and problems with a Chinese joint venture.
Apollo shares rose 9% percent in pre-market trade on Tuesday on news the deal had fallen through.
Cooper shares also rose more than 5% after the announcement.
The US tyremaker said in a statement that it was was time to "move its business forward."
"While the strategic rationale for a business combination with Apollo is compelling, it is clear that the merger agreement both companies signed on June 12 will not be consummated by Apollo," said Cooper Tire's chief executive, Roy Armes.
Several problems
India's Apollo initially agreed to buy the US tyremaker for $35 per share, which brought Cooper's value then to some $2.5bn.
But days after the deal was announced, workers at Cooper's Chinese joint venture partner, the Chengshan Group, protested against the takeover proposal.
Cooper was later denied access to financial records at the Chinese joint venture operation and its factory stopped producing Cooper-branded tyres.
The Chengshan operation is key to Cooper's business, providing some 25% of the US firm's revenue.
The takeover deal also resulted in a battle with a US union, United Steelworkers, which represents Coopers workers in Texas and Ohio.
In September, United Steelworkers won a US arbitration ruling allowing it to strike a new agreement for employees on wages and working conditions. Apollo had not reached such an agreement before the takeover deal was terminated.
The obstacles led Apollo to attempt to renegotiate the sale by cutting Cooper's share price by as much as $9.
The Indian tyremaker then told Cooper it did not have enough funding to finance the all-cash deal, prompting the US firm to terminate the proposal a day before the deal was set to expire.
What's next?
The ongoing dispute between the two firms is now expected to focus on whether either is liable for a break-up fee.
Under the proposed deal, Apollo would have been liable to pay a fee of some $11.25m, while Cooper would have been liable for a fee of $50m.
The US firm said it would pursue damages.
"Cooper does not believe the $50 million termination fee applies," said the US company's chief financial officer, Bradley Hughes.
"As to the $112.5 million reverse termination fee from Apollo, Cooper is pursuing this and other possible damages," he said.
Apollo said it was disappointed the US tyremaker had ended the agreement and said it would pursue legal action of its own.