Barclays: 'Five to 10 years to be trusted again'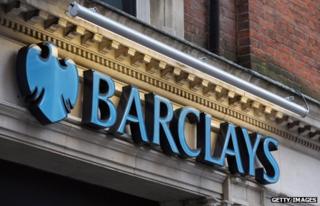 The past year was one in which big banks hoped that the process of regaining the trust of the country might begin, but it did not really turn out that way.
The sins of the past - their bad behaviour in the boom years and beyond - came back to haunt them, in the form of a series of damaging revelations.
In their investment banking operations, there were more fines relating to the manipulation of interest-rate benchmarks, Libor and Euribor.
There are official probes into whether they have rigged other benchmarks, in foreign exchange trading and in so-called swap rates for derivatives (the benchmark price for complicated deals worth trillions of dollars).
What some have found particularly shocking is the allegation that the rigging of some of these markets - in foreign exchange at Barclays for example - may have been taking place as late as last summer, long after the top brass of banks said very publicly that such behaviour was unacceptable.
But it is not just investment banking that has been tainted.
The cost of paying compensation to victims of mis-selling of PPI credit insurance continued to soar, and the bill for wrongly selling interest-rate swaps to small businesses also rose.
The retail bank, Co-op Bank, almost collapsed - and its reputation for being ethical was damaged by disclosures of the alleged drug-taking of its erstwhile chairman.
Lloyds received a huge fine for mis-selling investment products to customers long after the 2008 crash.
RBS was accused by an entrepreneur, Lawrence Tomlinson, of dealing with vulnerable smaller businesses in a brutal way.
And RBS joined HSBC and Standard Chartered as a bank spanked by US authorities for facilitating sanctions busting.
Or to sum this up, a picture was painted of an industry whose instincts is to bend or break the rules, when there's money to be made and no-one's looking.
Every one of the banks would say "that was then" - and that they've learned their lessons and are cleaning up their acts. But they are braced for more fines and damaging disclosures over the coming 12 months and beyond.
So how long will it be till we trust the banks again?
Well the chief executive of one of the biggest, Antony Jenkins of Barclays, says it will take between five and 10 years to rebuild people's trust in his bank - and that he will very publicly measure whether Barclays is succeeding in winning back public confidence.
Jenkins made this disclosure to students at Brooke House Sixth Form College in East London, at an event organised by the charity Speakers for Schools.
I should declare an interest here, in that Speakers for Schools is a charity I set up, which organises free talks in state schools by top people.
In his chat with the students, to be broadcast in a special edition of the Today Programme this morning for which Jenkins is a guest editor, the Barclays chief executive said he was setting his bank a target of being more trusted than not by 2018.
It is one of eight commitments Jenkins will make to staff, customers, shareholders and what he calls society in a few months.
Mr Jenkins said that the bank would measure and monitor progress in a systematic way.
Right now, Barclays - according to its own research - is more mistrusted than trusted, according to Mr Jenkins.
Or to put it another way, on a trust scale of one to 10, its score is less than five (which is probably not a great surprise to you).
Jenkins's target is for Barclays to be trusted to the tune of 6.5 out of 10 by 2018.
That may not seem a particularly high mountain to climb, but it may well turn out to be more challenging than Everest, given that litigation and complaints against the banks show no sign of diminishing.