Debt crisis will hurt millions, says think tank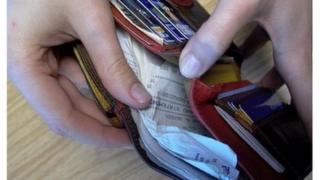 Millions of UK households will face "perilous" levels of debt when interest rates begin to rise, according to a think tank focused on living standards.
The number of people using more than half their disposable income to repay debt could rise from 600,000 to a 1.1 million by 2018 if interest rates rise to 3%, said the Resolution Foundation.
If rates hit 5%, two million households would face huge repayments, it said.
Mortgages are the largest source of UK household debt.
The Resolution Foundation study used the latest five-year growth projections from the independent Office for Budget Responsibility.
"Even if we take a somewhat rosy view of how the economy will develop over the next few years the number of households severely exposed to debt looks as though it will double," said Matthew Whittaker, the senior economist at the Resolution Foundation.
"But the levels of debt built up by families in the pre-crisis years are such that even relatively modest changes in incomes and borrowing cost assumptions produce significantly worse outcomes."
The Resolution Foundation said the number of households in so-called "debt peril" - spending more than half their income to debt repayments - was 870,000 in 2007, just before the financial crisis.
If rates do not rise above 3% by 2018, then the Resolution Foundation suggests 1.1 million will be in "debt peril".
Unemployment rates
"On the most adverse, but still plausible, scenario looked at in the Resolution Foundation analysis the number of households in Britain who spend at least half their disposable income on repaying debts (and are therefore deemed to be in debt peril) could more than triple - from 600,000 in 2011 to 2 million by 2018," it said.
The predictions apply to all debt, including credit cards and other loans - but mortgages make up the largest slice of most debt in the UK.
The Bank of England has kept interest rates on hold at a record low of 0.5% since March 2009.
Under the Bank's policy of forward guidance, brought in by governor Mark Carney, it has said it will not increase interest rates until the rate of unemployment has dropped below 7%.
The UK unemployment rate this month recently fell to 7.4% during the three months to October, the lowest level since early 2009, which led some economists to predict that the Bank may raise rates as soon as next year.
Recently, another think tank, the Centre for Social Justice, said the average UK household has debts of £54,000, including mortgages. This is nearly twice the level of a decade ago and much more must be done to help the UK's poorest families, it said.