Firefighters stage strike in pensions dispute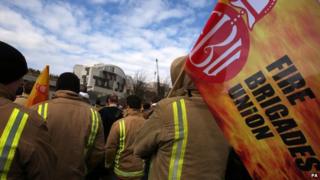 Members of the Fire Brigades Union in England and Wales have held a further strike on Christmas Eve in a dispute over pensions.
The strike lasting for five hours ended at midnight and further action is scheduled for the New Year.
But members of the FBU in Surrey and Kent were recalled after flooding was declared a "major incident".
Scottish firefighters voted against a strike but have joined an overtime ban.
Severe floods hit Surrey and Kent on Tuesday, with Dorking, Leatherhead and Tonbridge among areas affected.
There is an agreement between the union, the government and the fire services that if there are major incidents, union members could be recalled, the FBU said.
So if there are problems resulting from the storm that has hit the country, firefighters can be asked to go back and work - albeit voluntarily.
Kitchen fires warning
Ahead of the strike fire chiefs had urged the public to take extra care with Christmas celebrations.
"Millions of people will be at home celebrating Christmas and New Year when the Fire Brigades Union goes on strike," said the London Fire Commissioner Ron Dobson.
"Contingency plans are in place but we're urging people to take care, to be sensible, and to remember that fire brigades could be very busy during the strikes," he added.
"Make sure you keep candles well away from anything that could catch fire and switch off fairy lights when you go out or to bed.
"If you're preparing a festive feast, it's a good idea to keep an eye on cooking to prevent kitchen fires."
It was the FBU's seventh strike since September.
The union says the government is "refusing to honour long-standing agreements" over pension arrangements.
Changes to the pension scheme could also result in many firefighters in their late 50s being sacked, the union claims.
Union officials met with fire minister Brandon Lewis earlier on Tuesday, but it is not yet clear if there was any agreement.
Mr Lewis has described the action as "completely cynical" and added that there were "robust contingency arrangements in place".
Meanwhile the London Fire Brigade said it had received five times the normal number of emergency 999 calls on Monday due to high winds and heavy rain hitting the capital.