Christmas shopper numbers hit by bad weather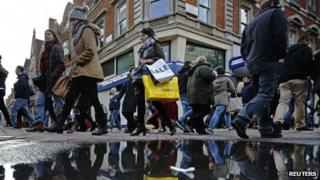 Bad weather and more online shopping has seen fewer shoppers hitting the UK High Street in the run up to Christmas this year, according to new figures.
Footfall figures from research company Springboard show shopper numbers were down 5.7% last week compared with a year ago.
Separate data from Experian suggest last week's footfall was down 6%.
Analysts said the bad weather made shopping centres more popular with shoppers than the High Street.
"High streets have been dealt a bad hand with Christmas trading this year, as consumers have chosen to head to destinations away from the wind and rain," said Diane Wehrle, marketing and insights director at Springboard.
"Over the last two weeks, retail parks have stood out although over December as a whole shopping centres have performed best year on year.
"It is only really this last week that has been particularly tough for high streets - they outperformed both shopping centres and retail parks early on but inevitably have fallen victim to adverse weather conditions."
The New West End Company, which represents retailers in central London, said footfall last week was down 9% compared with a year ago.
Springboard said continuing bad weather on Monday saw shopper numbers down 1.1% compared with the Monday before Christmas last year.
But shoppers flocked to indoor shopping centres, which saw a 7.2% jump in numbers for Monday.
Analysts also said the rise of internet shopping has reduced the numbers of people heading out to the shops.
The latest retail sales figures from the Office for National Statistics suggests online sales accounted for 11.9% of total sales excluding fuel in November - the most recent data available.