Rail fares are to rise by average of 2.8%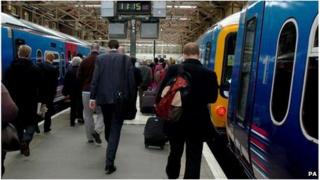 Rail fares will rise by an average of 2.8% from 2 January, the smallest rise in four years, the Rail Delivery Group has said.
The industry body said it would be spending £24bn over the next five years improving the rail network.
But some regulated tickets, including season tickets, anytime and off-peak tickets will rise on average by 3.1%.
Passenger groups said season ticket prices were going up three times faster than wages.
Some operators have detailed price rises for fares:
'Thousands of projects'
In Wales, season tickets will go up by less than inflation in January.
But the Welsh Transport Minister Edwina Hart said future average price rises would have to stay in line with the RPI inflation rate, instead of the earlier formula of RPI plus 1%.
The Scottish government says increases in regulated peak fares will be capped at RPI in January 2014 and January 2015. Meanwhile, regulated off-peak fares are frozen after 2013, provided that RPI remains below 3.5% per annum.
There are no planned rises in Northern Ireland.
In London, fares were due to increase by 2.7% - less than the national average of 2.8%.
But, like other regulated rail fares, the price of travelcards will increase by 3.1%, in line with the National Rail.
The Rail Delivery Group, which represents the rail industry, said it "strongly supported" the real-term price freeze announced by Mr Osborne in his Autumn Statement on 5 December.
"Nobody likes paying more to travel by train, particularly to go to work, but billions are being spent to serve passengers better," the group's statement said.
'Faster than wages'
The chancellor announced in December that regulated rail prices would increase in line with July's RPI inflation measure, rather than RPI plus 1% as had previously been the case.
Train companies have some room for manoeuvre when setting individual fares.
There is a "flex clause" that allows train companies to increase fares by as much as 2% more than the average, but they would be offset by fare reductions elsewhere.
There is no cap on how much unregulated rail fares - usually off-peak leisure tickets - can rise, although this year they will see a smaller increase than regulated tickets.
But Stephen Joseph, who heads the Campaign for Better Transport, said season ticket prices would go up three times faster than wages.
He called for the government to stop using the RPI figures to calculate ticket prices, saying the index frequently overestimated real inflation.
"[It would have] little impact on railway revenues, but it would save passengers money and bring fares into line with things like public sector pensions," he said.