German retailer Aldi plans $3bn expansion in US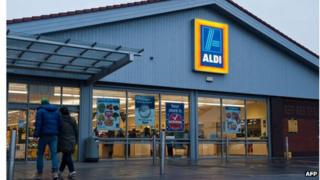 German supermarket group Aldi has announced plans to invest $3bn (£1.8bn) to expand its operations in the United States.
Over the next five years it wants to open 650 stores, taking its total number of stores in the US to almost 2,000.
The plan includes a distribution centre and US headquarters in California.
Aldi opened its first store in the US in 1976 and now serves more than 25 million customers each month.
"Recently, we successfully entered new markets such as Houston, [Texas] and expanded our presence in competitive markets like South Florida and New York City," said Aldi's president Jason Hart.
"We are eager to bring the Aldi difference to new markets like Southern California," he added.
Aldi's success contrasts with Tesco's experience in the US.
In September, the British chain sold its Fresh & Easy chain of stores.
It had 200 stores across California, Nevada and Arizona, but had lost money since opening in 2007.