Deutsche Bank pays 1.4bn euros to settle US lawsuit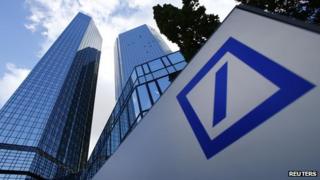 Germany's biggest lender, Deutsche Bank, will pay 1.4bn euros ($1.9bn; £1.2bn) to settle a lawsuit with the US Federal Housing Finance Agency (FHFA).
The lawsuit accused Deutsche Bank of breaking state and federal laws when it sold financial products backed by mortgage loans to Fannie Mae and Freddie Mac between 2005 and 2007.
It is latest in a series of settlements by banks over mortgage-backed products.
Deutsche Bank says it has left the business that led the claims.
In a statement, Juergen Fitschen and Anshu Jain, co-chief executive officers of Deutsche Bank, said: "Today's agreement marks another step in our efforts to resolve the Bank's legacy issues, and we intend to make further progress in this regard throughout 2014."
Housing boom hangover
Freddie Mac and Fannie Mae had to be bailed out by the US government in 2008.
They play a key part in the US housing market by buying mortgages and repackaging them into guaranteed bonds.
But the collapse in house prices after 2008 left them with $30bn in losses and also exposed flaws in some of the products that banks had been selling to them.
The FHFA has been suing banks over those flawed products.
Bank of America, Citigroup, JP Morgan Chase, Wells Fargo and others have been involved in similar settlements.