BAE shares fall on setbacks over Middle East fighter jet sales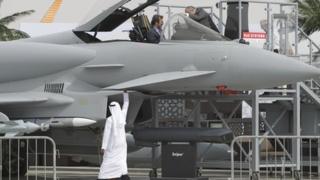 Shares in BAE Systems fell 4.5% after the UK's biggest manufacturer suffered setbacks over fighter jet sales in the Middle East.
News that a deal to sell 60 Eurofighter Typhoon jets to the United Arab Emirates had collapsed were compounded by fears over a deal with Saudi Arabia.
Talks to extend an existing Saudi deal have stalled, according to reports.
As US and European defence budgets are cut, arms firms are looking to the Middle East to maintain order books.
The double blow sent BAE shares down 4.6% in afternoon trading, making it the worst performer in the FTSE 100.
"The UAE have advised that they have elected not to proceed with these proposals at this time," BAE said in a statement.
BAE added that it had not priced the UAE deal into its financial assumptions. "All parties have invested significant effort in drawing up Typhoon proposals for the UAE and, recognising the risk, scale and complexity of such a transaction, the group had not built this prospect into its planning assumptions," the company said.
However, analysts said that there was an expectation that the deal, worth up to £5bn, appeared close to being signed, especially as prime minister David Cameron had visited the UAE during last month's Dubai Air Show.
'Negative'
BAE also said it had yet to reach a "definitive agreement" on a a contract to upgrade an existing contract to sell 72 fighter jets with Saudi Arabia.
Under the 2007 Salaam contract, Saudi agreed to buy 72 Typhoon jets for about £4.5bn, but the two sides have been in protracted talks about upgrading the aircraft and expanding support and maintenance.
BAE's chief executive Ian King said in August that winning the UAE deal could be a "major game changer" for the company and the order, along with the expanded Saudi contract, could help stretch its Typhoon production line by four years to 2022.
The company has said that should the Saudi deal fail to be completed this year, it could hit its earnings per share by 6p-7p for 2013.
"The combined news is certainly negative for BAE," RBC Capital Markets analyst Rob Stallard said. "But Salaam could potentially prove the more worrying piece of news as its continued delay may spook investors into worrying that negotiations are not achieving any real progress."