UK economy growing faster than forecast, the ONS says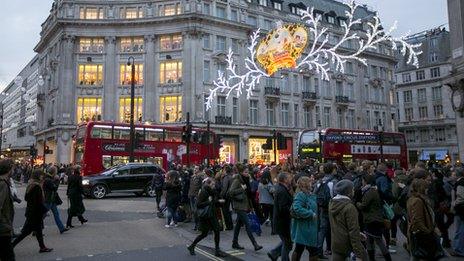 The UK economy is growing faster than previously estimated, according to the latest official figures.
The Office for National Statistics (ONS) said gross domestic product was up 0.8% in the July-to-September period compared with the previous quarter, confirming its previous estimate.
But it revised its growth figures for earlier quarters.
This means the estimated annual growth rate has now risen from 1.5% to 1.9%, a revision that has surprised economists.
A Treasury spokesman said: "Today's data show that the recovery has been stronger than previously thought and that the government's long-term economic plan is working.
"But risks remain and the job is not done, so the government will go on taking the difficult decisions needed to deliver a responsible recovery for all."
ONS data showed that Britain's current account deficit - the difference between the money received from exports and imports - widened sharply in the third quarter to £20.7bn, up from £6.2bn in the second quarter.
And public finances weakened in November, with public sector net borrowing - excluding the effect of bank bailouts - rising to £16.5bn, up from £15.6bn compared with the same month last year.
Despite the strengthening economy, underlying public sector net debt rose to a new monthly record of 76.6% of gross domestic product.
This has led some economists to question the sustainability of the recovery.
Samuel Tombs, UK economist at consultancy Capital Economics, said the public finance figures made for "somewhat gloomy reading", suggesting borrowing could be on course to overshoot the Office for Budget Responsibility's latest forecast of £111bn for the 2013-14 financial year by about £1bn.
Most recent data has confirmed a strong pick-up in economic activity, which is feeding through to employment levels and government receipts.
On Wednesday, figures showed that the unemployment rate had fallen to 7.4%, its lowest level since 2009.
The number of people out of work fell by 99,000 to 2.39 million in the three months to October, the ONS said, while the number of people in work rose to a record 30.09 million.
Central government receipts from VAT and income tax were up 4.6% to £41.2bn, while the stamp duty take rose 23%, largely thanks to the revival of the property market.
Households have been loosening their purse strings, official data suggests.
Household spending rose 0.8% in the third quarter compared with the April-to-June period, even though real disposable income rose by just by 0.4%, the ONS said.
Thursday's figures showed that retail sales rose 0.3% in November from the month before, and were up 2% from a year earlier, driven primarily by an increase in shoes, clothes and textiles buying.
With annual inflation running at a manageable 2.1%, close to the Bank of England's 2% target rate, governor Mark Carney has said he is in no hurry to increase interest rates from their current record low of 0.5%.
But the currency markets appear not to believe him, since sterling has risen about 2% against other currencies in recent months.
Related Internet Links
The BBC is not responsible for the content of external sites.