China Everbright Bank share price falls in HK debut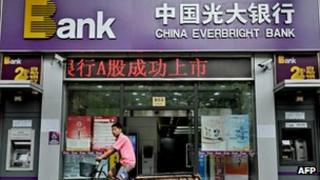 China Everbright Bank fell in its Hong Kong trading debut after raising $3bn (£1.8bn) in the city's largest initial public offering this year.
Shares dropped by as much as 5% to HK$3.78, reflecting concerns rising bad debts will affect the outlook for Chinese banks.
This is the third attempt by Everbright, which is also listed in Shanghai, to go public in Hong Kong.
The lender is looking to raise money to meet tighter financial requirements.
Chinese authorities have asked its banks to hold more money in reserve to protect themselves against financial risks such as non-performing loans or bad debts.
China's Banking Regulatory Commission now requires mid-sized banks such as Everbright to have a minimum capital adequacy ratio, or cash buffer, of 10.5% by 2018.
Financial fragility
Everbright, which is China's 11th largest bank, had initially planned to raise as much as $6bn from a share sale in Hong Kong in 2011.
But those plans were shelved due to market volatility, before being revived in May of last year.
However, their listing plans were once again postponed due to poor financial conditions.
This time around, Everbright's lacklustre Hong Kong debut has been hindered by perceived fragility in the Chinese financial system.
In recent months, China's short-term interbank lending rates have risen sharply to levels that make it more expensive for banks to lend money to each other.
The resulting increase in borrowing costs has led to a cash crunch in China.
To soothe the market, the nation's central bank announced on Thursday that it had injected short term liquidity into the system.