Bank of England reports sharp drop in debt 'concern'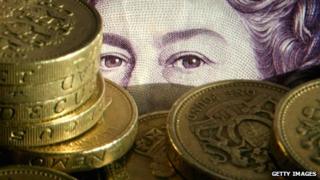 A survey for the the Bank of England says there has been a sharp drop in the number of households concerned about their debts.
In 2013, 39% of households were worried about debt, compared with 46% last year, the report says.
But the Bank warned about the potential impact of future rises in interest rates on borrowers.
The number of people worried about the affordability of their debts was unchanged from 2012.
"While debt servicing costs were also broadly unchanged, a significant increase in interest rates at current incomes may increase financial pressure on households with a mortgage," the report said.
Among households with mortgages, 8% are paying out 35% or more of their incomes on servicing those loans.
But if interest rates were to rise 2.5 percentage points, the proportion of people supporting that repayment burden would double to 16% - assuming no rise in incomes.
The survey showed that the average outstanding mortgage was reported to be about £87,000 and average pre-tax monthly income was £2,701, up slightly from £2,631 a year ago.
Meanwhile, the Bank has been looking into the effects that rising interest rates would have on households.
If interest rates were to rise from the current level of 0.5% to a more normal 3%, without any increase in household incomes, it estimated that holders of 50% of UK mortgages would have to either reduce their spending or find more work.