Mississippi's economy: Down but not out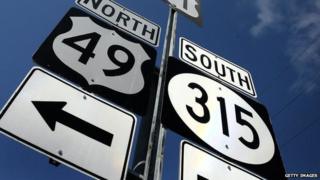 In parts of Mississippi it is hard to believe this is the United States, the richest country on earth.
In the town of Clarksdale, in the Mississippi Delta, there is street after street of rundown, dilapidated wooden houses.
Shabby-looking stores with bars on the windows sit alongside crumbling buildings.
Mississippi is America's poorest state - 22% of the population live in poverty.
Life is tough for many people here.
Angela Mixon, 30, used to be a teacher. She has not worked in two years and now spends her days sitting outside her publicly-funded apartment in the sunshine, talking to friends.
"It's hard to find a job here, really hard. You have to go two or three hours away to get a job.
"I'd do anything, as long as it made me money," she says.
So how is she able to afford to live? "The grace of God," she replies. "He blesses you now and then."
Her neighbour, Carlos Fields, 45, is a self-employed construction worker. He has not got much work on at the moment.
"It's kinda slow round here, the income's down - money's tight," he says.
Seasonal work
These are common stories.
The median household income in Mississippi is $38,882 (£23,780), according to the latest US Census Bureau data - more than a quarter lower than the national figure of $53,046.
The state is at the bottom of the US wage league table, and is often at the wrong end of most tables about money, health and education.
One table it consistently tops, however, is to do with religion - it is known as the most religious state in the United States.
In a bright, ornate Baptist church in a leafier part of Clarksdale, a service is in full swing.
The congregation is belting out a rendition of a hymn, "Set my soul on fire, Lord".
The pastor, Cliff Springer, explains why Mississippi suffers from these economic problems.
"We are one of the agricultural counties that has been extremely impacted by modern technology.
"We have a huge workforce that's available, that's not working," he says.
"On the other hand, agriculture is still a billion-dollar industry."
In fact agriculture is worth $7bn (£4.3bn) to the state's economy, and employs 29% of its workforce, but the jobs are largely seasonal.
On River Bend Farm, Kenny Taylor, is sitting in the cab of a new green combine harvester.
The giant blades are cutting soya, which is then spewed into a grain container being pulled alongside by a tractor.
"I've been on this farm about 25 years, I love it," he says.
Mr Taylor works on the farm for nine months of the year, and claims unemployment benefit for the rest of the time.
He says his family - he has seven children - could do with more money to do the things many families take for granted.
"It's been a while since I went on vacation. No money."
Most farm workers get the minimum wage, according to Don Green, executive director of the Mississippi Council for Farm Workers.
"It's based on whether or not it rains, when you can get the crop in the ground, whether you can get it out on time.
"You don't know how much you're going to make," he says.
'We've come a long way'
There is a racial gap when it comes to income too.
Mississippi has the highest proportion of black people in the US - 37% - which is more than twice the national average.
The state has a notorious past - one of slavery, segregation and discrimination.
Many argue its legacy is yet to be shaken off.
The average black Mississippian earns considerably less than his or her white neighbour - $24,414 versus $46,174.
"African Americans are at the bottom of all of the bad lists and at the top of lists that are not so good," says Derrick Johnson, chair of the local branch of the National Association for the Advancement of Colored People.
"Racism in the state of Mississippi has been a part of our fabric," he says.
"We have in fact come a long way. We continue to tear down barriers."
'It's an emerging market'
Economic progress overall is being made too.
The state's economy grew faster than any other in the US in 2013. It also created jobs at a faster rather than the national average.
So there is a sense that things are getting better.
In the downtown area of Jackson, the state capital, roads are being repaired and new shops are being built.
Tom Ramsay is opening a restaurant nearby.
When we visit, it is a scene of chaos, with tables and chairs scattered haphazardly around the public area and workmen traipsing in and out.
"Jackson is undergoing a real restaurant renaissance right now. It's an emerging market in the restaurant world," says Mr Ramsay.
He says he is doing his bit for the state's economy, creating about 15 jobs. "I hope the economy's contributing to me as well," he says.
There are other signs things are looking up.
'More small businesses'
"There's so much opportunity here," says Lucky Town Brewery co-owner Angela Blackburn, over a glass of the company's oatmeal ale. The brewery is in the middle of moving to Mississippi.
"There is so much growth to be had, and a lot of people are passionate about development. So in years to come we're going to see more small businesses."
Even in the poorest part of the state, the Mississippi Delta, things are getting better.
"Clarksdale has levelled off and people are starting to move back here," says the town's mayor, Bull Luckett.
"Our downtown development is really starting to take off."
Mississippi still has a long way to go, but it may yet shake off its title as America's poorest state.
You can hear more on this story in World Business Report on BBC World Service at 17:32 and 22:32 GMT on Wednesday, 1 January 2014.