MPs call for payday loan advert ban on children's TV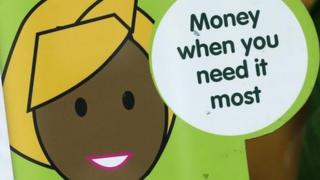 A committee of MPs has called for a ban on payday loan advertising on children's television, but the industry regards its report as wide of the mark.
Adverts could expose children to the idea that loans were "fun, easy and an appropriate way to access finance", the Business Select Committee report said.
But one major lender - Wonga - said it was a "myth" that it advertised on children's TV or programmes.
It is also against the code of practice of one major payday loan trade body.
'Immoral'
Figures from regulator Ofcom showed that children aged four to 15 saw three million payday loan TV adverts in 2008, but this had grown to 596 million in 2012, accounting for 0.7% of adverts seen by this age group.
This meant that the average child aged four to 15 saw 70 payday loan adverts last year.
Yet only 3% of payday loan adverts seen by four to 15-year-olds were on children's channels, equivalent to two per child on these channels over the year.
Citizens Advice and Labour leader Ed Miliband have already called for a ban of these adverts on children's TV.
"Targeting children and people out of work with payday loan adverts is immoral," said Citizens Advice chief executive Gillian Guy.
"A ban on advertising during children's TV programmes is a sensible step, but further restrictions around ads aimed at people on very low incomes are also necessary."
Labour MP Stella Creasy, who has campaigned against short-term lending practices, said that children were exposed to payday lending adverts on daytime television too.
The Advertising Standards Authority, which polices the the advertising industry, said that it bans any "irresponsible" payday loan adverts. However, it said that legislation would be needed to bring an outright ban as proposed by the committee.
Russell Hamblin-Boone, chief executive of the Consumer Finance Association (CFA) - which represents a number of payday lenders - said: "The CFA recognised concerns around the advertising of short-term loans on children's TV channels over a year ago and as a result, there have been no adverts by members on children's channels since then."
He added that viewing an advert did not equate to having a successful application for a loan, which was available primarily to over-18s in work.
Meanwhile, the Advertising Association, which represents ad agencies, said general advertising could be useful for borrowers.
"Advertising will help improve competition in this sector and allow people to compare offers and services, but it must be responsible," it said.
'Overhaul needed'
Payday lenders offer short-term, high-interest loans and the industry has grown rapidly in the UK since the credit crunch. The committee said the industry was worth between £2bn and £2.2bn in 2011-12 compared with £900m in 2008-09.
In a wide-ranging report, the committee said the sector was "in urgent need of an overhaul". It suggested:
Accelerating the start of a data-sharing system to prevent people taking out multiple loans from numerous providers
Prominent "health warnings" at every stage of the application process for a payday loan
Ensure lenders submit their affordability tests, which judge whether an applicant is able to take on a loan, to the regulator
A levy to be paid by payday lenders to the regulator should be used solely to fund debt advice services
A restriction to only one rollover per payday loan
"If a customer misses a loan repayment, it is evidence that they are in financial difficulty and that the lending is unsustainable. It is not, as some payday loan companies seem to think, reason for offering a rollover," said Adrian Bailey, who chairs the committee.
But some lenders suggest that rolling over a loan, for example, for another month was similar to paying the minimum repayment on a credit card demand.
"We do not accept the premise of assuming a customer that wishes to roll over their loan more than once is in financial difficulty to the point of vulnerability," said Mr Hamblin-Boone of the CFA.
The Financial Conduct Authority (FCA), which takes over regulation of the industry in April, recently proposed a limit of two rollovers.
It is also involved in a consultation on finding an appropriate cap for the total cost of payday loans, following a proposal from the government.
The payday lending industry is also undergoing an investigation by the Competition Commission.
The government welcomed the report, but said that tough proposals had been put forward by the regulator, the FCA.