Ofgem: Old power plants plan for energy crisis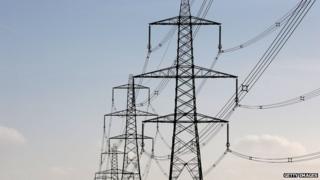 "Mothballed" gas-fired power plants could be used as a "last resort" in the event of a power shortage, under new rules.
New regulations, approved by regulator Ofgem will also allow the National Grid to ask more businesses to cut back on energy use during peak times in winter.
Ofgem predicts "tighter" electricity supplies from winter 2014.
Old gas-fired power stations, closed because of inefficiency, are more likely to be used than coal-fired ones.
'Extra insurance policy'
The regulator predicted supply could could fall to 2% above electricity demand in 2015-2016, depending on the outlook for demand.
Chief executive at Ofgem, Andrew Wright, said: "Britain has one of the most reliable power systems in the world but, with margins tightening, there can be no room for industry complacency on security of supply.
"Therefore, we have approved these new tools to act as an extra insurance policy that is available for National Grid to protect consumers' power supplies."
Ofgem's decision gives National Grid the ability to agree contracts, if it needs to, with power stations to provide extra reserve power in times of peak demand.
Mothballed gas-fired plant and other generators would compete for these contracts.
The National Grid can also ask for businesses' support during peak times between 16:00 and 20:00 in the winter, by asking them to come off the National Grid in return for a payment.